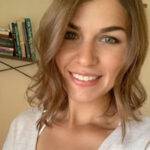 Catherine Dorian
Catherine is a lifelong writer and seven-year educator. Catherine loves to teach for the same reason she loves to write; both require that we constantly dispute our ideas, question possibilities, seek connection with others, and find creative ways to navigate our most pressing obstacles. She has published several academic articles about English education and presented at state and national conferences, and throughout her career, she has facilitated the growth and success of two high school writing centers and literary magazines. Catherine earned her BA in English Teaching from Montana State University, and she is a degree candidate in the ALM program in Creative Writing and Literature at Harvard University. Find her at catherinedorian.com.
By Catherine Dorian:
A Portrait of the Artist Under Copyright
What is a Freelance Writer?
What is Ghostwriting?
How to Become a Writer in Wisconsin with a BFA, MFA or Similar Creative Writing Degree
How to Become a Writer in Wyoming with a BFA, MFA or Similar Creative Writing Degree