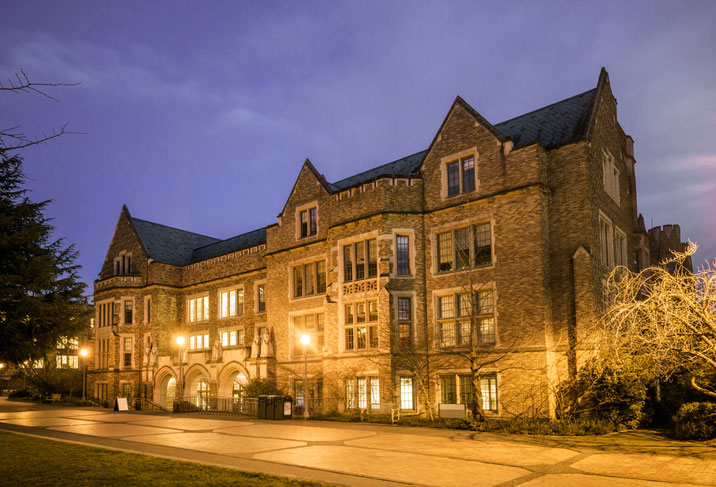 The Seattle area's natural beauty is the stuff fairytales are made of, somehow idyllic and dreamy even when you're stuck in traffic.  If you're a creative type, you can't help but feel a constant rush here. Fact is, inspiration is practically handed to you on a silver platter in the Evergreen State.
Washington is where old-growth forests are blanketed with lush, emerald-green mosses… where remote coastal beaches give way to crystal clear tide pools teeming with tiny anemones and fascinating sea stars… where farm-to-table restaurants in quaint seaside towns highlight local oysters, rhubarb pie, and the freshest Dungeness crab in the Pacific Northwest… where glacier-capped mountains provide the backdrop to death-defying ski runs… and where spring snow melt creates thundering waterfalls that are always worth the hike.
Rebecca Wells wrote her New York Times bestselling novel, Divine Secrets of the Ya-Ya Sisterhood when she lived in Seattle. Kristin Hannah, bestselling author of The Nightingale (it was a New York Times bestseller for a whopping 20 weeks), lives on Bainbridge Island. And Julia Quinn, author of the bestselling Bridgerton historical novel series (which have also become a wildly popular Netflix series) creates out of her Seattle home.
Coincidence? Nah, it's the magic of Washington State.
You'll find plenty of space to carve out your own creative writing career in Washington. With your favorite notebook or trusty laptop in hand, you're free to explore your creative voice in whatever big city or small town in Washington you call home. Lively writing workshops, open mic nights, critique groups, and writing events both big and small can be found from Bellingham to Everett to Yakima and beyond. They provide writers like you with ample opportunities to elevate your craft and dive headfirst into the state's lively writing community.
And when you're ready to make the leap and turn your passion for writing into a real career, Washington is also where you'll find a fantastic selection of world class creative writing degree programs.
Washington Poet Laureate Rena Priest Draws Inspiration From Her Indigenous Heritage and the Tribal Lands of the Pacific Northwest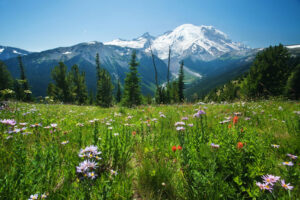 On April 14, 2021, Rena Priest became Washington's sixth Poet Laureate– but its first Native American Poet Laureate, a coveted recognition awarded through the Washington State Arts Commission and Humanities Washington.
Her title as Poet Laureate is an important one (she'll hold this honored position until March 31, 2023), as she'll serve as the statewide ambassador for poetry during this time.
During her term as Poet Laureate, she'll produce new work while also working to inspire and connect with readers and writers across the state through events and programs. While her plans aren't yet formalized, she does plan to focus her work on the importance of preserving the tribal lands of Washington and promoting healthier ecosystems. As a longtime resident, she has an intimate connection with Washington and its land.
This Bellingham-based poet has already authored two books of poetry. Patriarchy Blues, her literary debut, received the 2018 American Book Award. Her most recent work is Sublime Subliminal. She holds a BA in English from Western Washington University and an MFA in Writing from Sarah Lawrence College.
Priest's poetry offers unique observations about complex social issues, yet often delivers them with a sharp wit and crafty imagery. Sublime Subliminal is known for its playful, celebratory use of language. She says that her craft is always rooted in joy and that being able to address even darker topics in her work is a freeing, cathartic process. Readers will also find Priest expressing her Indigenous voice and exploring her culture and heritage throughout this book.
Creative Writing Classes, Courses, and Workshops in Washington Can Prepare You for a Creative Writing Degree
There's a good chance you're a quirky, forward-thinking, nature-loving wordsmith who never passes up a good opportunity to flex your creative muscle.
Maybe you and your favorite journal can be found biking to your favorite outdoor spot for a little solitude and quiet time. Perhaps you can be found tapping away at your keyboard as you wait on your order at your favorite corner coffee shop. Or maybe your idea of the perfect creative day involves a rigorous hike followed by a writing session in the shade of a towering tree.
But Washington is also home to ample opportunities to move beyond your comfort zone and get involved in workshops, classes, and other meet-ups tailor made for creatives. You'll fall in love with the camaraderie, get inspired by your fellow writers, and find new ways to hone your craft.
Cascadia Poetics Lab in Seattle is a vibrant community of poets that gathers for workshops, festivals, and events. Keep in touch with the latest happenings through their weekly newsletter, participate in online workshops, and make time to attend the annual Cascadia Poetry Festival.
Hedgebrook is billed as a global community of women writers that connects through books, poetry, plays, films, and music. This literary nonprofit, which is based in Freeland, provides women writers with unmatched opportunities to elevate their writing through writing residencies, Radical Craft Retreats, and salons at their picturesque retreat on Whidbey Island. Since 1988, Hedgebrook has welcomed more than 2,000 writers to their cottages.
The Pacific Northwest Writer's Association is a member organization that helps writers develop their talent through education, access to the publishing industry, and through events and programs with their community of writers. PNWA members can often be found writing and attending special events at the Cottage in Issaquah – a charming retreat that's perfect for creating. PNWA also hosts regular workshops through the year. Some of their workshops include a Write Your Story fiction course, The Art of the Personal Essay nonfiction course, Poetry Workshop and Discussion: Breaking Down the Boundaries, and Make $$ Writing marketing course.
The Write on the Sound Writers' Conference is a regional favorite. Based in Edmonds, this conference offers a variety of sessions, workshops, and panel discussions for writers of fiction, nonfiction, and poetry. Writers here also have the opportunity to have their poetry or manuscript critiqued by a professional author or writing instructor!
No need to get out of those comfy pajamas to participate in the writing community. The state's literary publications serve as a prime setting for reading other writers' works and getting yours published.
Willow Springs is a biannual journal that's been publishing contemporary fiction, nonfiction, and poetry for more than 45 years. Produced by the MFA Creative Writing program of Eastern Washington University, this journal accepts nonfiction submissions year-round and fiction and poetry submissions between September 1 and May 31.
Copper Canyon Press is a big name in indie publishing for poetry. Based in Port Townsend, Copper Canyon Press has been publishing groundbreaking poetry for 50 years. Get inspired by other poets and then forge ahead and submit your own original work for a chance at  being published.
Crab Creek Review is a Seattle-based literary journal that's been proudly introducing readers to the best emerging and established writers of poetry, fiction, and creative nonfiction. They also offer the Crab Creek Review Poetry Prize – a chance to get your poetry published and win $500!
Writing Colleges in Washington Offering Bachelor's and Master's Degrees in Creative Writing Provide a Path to Becoming a Writer
There may be nothing quite as fulfilling as being able to transition your love of writing into a rewarding career. Making the leap from amateur to published pro takes a lot of work, plenty of dedication, and a solid plan that includes a creative writing degree.
Bachelor of Fine Arts (BFA), Master of Fine Arts (MFA) and other undergrad and grad degrees in creative writing are widely available, both in Washington State and beyond, and are built on a solid foundation of theory and practice. A growing number of programs are also offered in an online or low-residency format to accommodate the busy schedules of working adults.
Top programs in creative writing offer options to specialize in one genre or explore several; opportunities to work alongside accomplished instructors who are often working writers themselves; and exciting opportunities to apply what you've learned through real-life, hands-on learning experiences.
Bachelor of Fine Arts (BFA) and Other Bachelor's Degrees in Creative Writing in Washington
Central Washington University
COLLEGE OF ARTS AND HUMANITIES
Accreditation: NWCCU
Degree: Bachelor – BA
Public School

Eastern Washington University
COLLEGE OF ARTS, HUMANITIES AND SOCIAL SCIENCES
Accreditation: NWCCU
Degree: Bachelor – BA
Public School

Pacific Lutheran University
COLLEGE OF HUMANITIES, INTERDISCIPLINARY STUDIES, AND SOCIAL SCIENCES
Accreditation: NWCCU
Degree: Bachelor – BA
Private School

Seattle Pacific University
COLLEGE OF ARTS AND SCIENCES
Accreditation: NWCCU
Degree: Bachelor – BA
Private School

COLLEGE OF ARTS AND SCIENCES
Accreditation: NWCCU
Degree: Bachelor – BA
Private School

University of Puget Sound
ENGLISH DEPARTMENT
Accreditation: NWCCU
Degree: Bachelor – BA
Private School

University of Washington-Seattle Campus
COLLEGE OF ARTS AND SCIENCES
Accreditation: NWCCU
Degree: Bachelor – BA
Public School

Western Washington University
COLLEGE OF ARTS AND SOCIAL SCIENCES
Accreditation: NWCCU
Degree: Bachelor – BA
Public School

Master of Fine Arts (MFA) and Other Master's Degrees in Creative Writing in Washington
Central Washington University
COLLEGE OF ARTS AND HUMANITIES
Accreditation: NWCCU
Degree: Master – MA
Public School

Eastern Washington University
COLLEGE OF ARTS, HUMANITIES AND SOCIAL SCIENCES
Accreditation: NWCCU
Degree: Master – MFA
Public School

Pacific Lutheran University
COLLEGE OF HUMANITIES, INTERDISCIPLINARY STUDIES, AND SOCIAL SCIENCES
Accreditation: NWCCU
Degree: Master – MFA
Private School

Seattle Pacific University
COLLEGE OF ARTS AND SCIENCES
Accreditation: NWCCU
Degree: Master – MFA
Private School

University of Washington-Bothell Campus
SCHOOL OF INTERDISCIPLINARY ARTS AND SCIENCES
Accreditation: NWCCU
Degree: Master – MFA
Public School

University of Washington-Seattle Campus
COLLEGE OF ARTS AND SCIENCES
Accreditation: NWCCU
Degree: Master – MFA
Public School

Western Washington University
COLLEGE OF HUMANITIES AND SOCIAL SCIENCES
Accreditation: NWCCU
Degree: Master – MFA
Public School