<!- mfunc feat_school ->
Featured Programs:
Sponsored School(s)
<!- /mfunc feat_school ->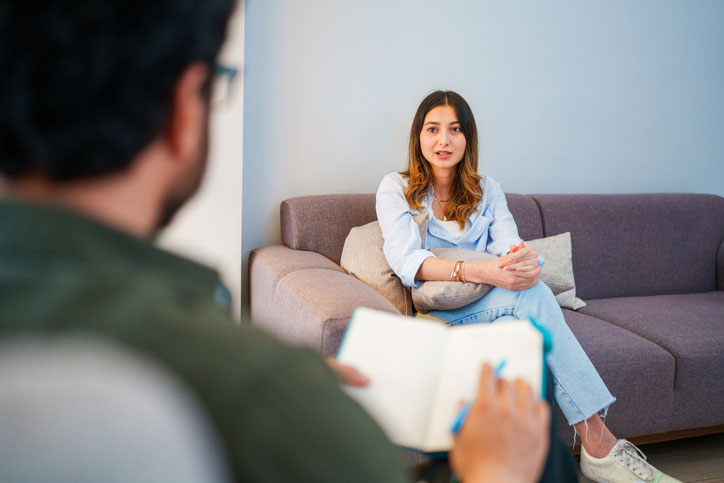 When people think of creative writers, they often imagine the stereotypical "tortured artist," who channels their inner strife into beautiful works of expression. It's true: many great writers draw from their moments of difficulty to find inspiration and tell stories that are impactful to others. But this doesn't mean that writers should be less concerned with preserving their mental health than others are. In fact, many would argue that the life of a creative writer requires an especially large amount of discipline, fortitude, and faith – all the hallmarks of putting in the work to protect one's well-being.
A writer's life can be hard, requiring great patience and a tenacious work ethic. Beyond the creative pressure writers put on themselves in their creative pursuits, many balance their literary efforts with other forms of employment. It's no surprise that many working writers report living under great stress, which among other things can often be a huge hindrance to productivity, creating even more stress in its wake. This vicious cycle can be an unfortunate part of writers' mental health. Indeed, many longtime writers advocate for the benefits of a healthy, conscientious lifestyle, arguing this to be the only way to maintain mental well-being while working diligently on a creative practice.
If you are a writer who is struggling with your mental health, know that there are resources out there to help you.
Writers are often introspective people who might feel that they can manage their emotional wellbeing on their own. But there is no shame in seeking the support of others during times of hardship. In fact, doing so can be a source of tremendous relief and personal empowerment. This is why it's important to know the signs of mental distress, taking stock of your habits and routines and taking action when things feel amiss.
Writers' mental health issues include the following:
These can take a variety of forms and levels of severity for different individuals. What's important is that you be proactive about finding support when things feel unmanageable.
This guide provides a list of mental health resources for writers who are seeking support, whether from professional counselors and therapists or other writers who can lend a sympathetic ear during hard times.
How Writers Can Use Their Creativity Through Crisis
When discussing strategies to help individuals face their mental health issues, many advocates recommend a free and straightforward activity that's known to have therapeutic effects: writing. For those who already spend their days doing this – whether for professional or purely creative reasons – this may sound funny, or worse, exhausting. After all, writing may be one of the very sources of anxiety or stress that one is hoping to get past. But mental health experts are serious about the major health benefits of creativity, and as an artist this is something you can use to your advantage.
Therapeutic writing has a distinct purpose from the writing you may do in other parts of your life. It is not oriented toward the goal of publication, and it doesn't require any other readers. In fact, it can be helpful to determine in advance that what you're writing will never be shared or otherwise made use of – rather, it is a document that will exist just for you. This alone can have a powerful effect, distinguishing this writing time as separate from the rest of your schedule.
So what do you write? Different people have vastly different approaches. Some take the time to journal directly about their feelings and experiences, putting into words the thoughts that they have recently been dealing with. Others choose to pursue routine practices like automatic writing, which have been found to have effects similar to meditation.
Writing alone is not a cure for mental health issues. But it can be a wonderful way to take space for yourself and examine your inner life.
As a working writer, you have the skills to quickly initiate a self-directed therapeutic technique. Not everyone is able to easily jump into a personal writing practice, but if you already have one, you already have one of the tools you need to take on your personal challenges, illuminating them in words so that you can learn and grow from them.
Writers' Support Groups
Many writers participate in groups where you read each other's work, providing useful feedback and insights to improve your craft. But this isn't the only support writers can provide to one another. Many creative writers form networks that specifically provide mental health support to one another, responding to the unique pressures of the job and the solace that can be found in like-minded people. These support groups can serve as fantastic free mental health resources for writers, offering a space of solidarity and empathy in the face of issues that are difficult to take on alone.
To be clear, these support groups are not designed for critique, networking, or other forms of professional guidance. They are intended to discuss writers' mental health and the particular choices writers are faced with that others might not understand.
Below is a list of a few of the top writers' support groups to turn to when you are in need.
Insecure Writers' Support Group
True to its name, this support group is specifically designed as a space to help writers deal with the emotional difficulty of their profession. As an added bonus, their website includes professional tips and opportunities for working writers.
Among its other offerings, The Novelry offers a variety of workshops and support groups for writers. Some of these are oriented around traditional critiques, but others are designed specifically for authors to find spaces of encouragement and understanding.
Poets & Writers offers an extensive index of writers groups ranging from online to in-person. Some of these groups are intended to share and discuss work, while others are designed more primarily for moral support. One must create a free P&W account to browse their offerings.
This organization offers multifaceted mental health resources for writers, including how-to guides, self-publishing software, and in-person workshops in locations spanning the United States and Canada to help facilitate connections between professionals.
Advocacy and Educational Resources
If you are not looking to necessarily work directly with others but would like to learn more about writers' mental health issues and strategies to improve your day to day wellbeing, the following provide educational materials on a range of topics. These are terrific mental health resources for writers to keep bookmarked for times of need.
American Psychological Association
This article offers a research-based argument for the connection between creativity and mental health, outlining how writing can help people overcome mental health challenges and even strengthen the body overall.
Gotham Writers: The Writing Therapist
In this article, a writer turned therapist shares his insights into the creative process, the working conditions for writers, and what writers can do to address their unique mental health concerns.
PEN America: Community Amid Coronavirus: Mental Health Tips for Writers
This article by PEN America was written during the height of the COVID-19 pandemic but contains many recommendations that are still pertinent today, including tips for working from home as a writer and other techniques to strengthen one's mental health.
Psych Central: The Power of Writing: 3 Types of Therapeutic Writing
This article provides three different techniques that can be used as forms of therapeutic writing, with strategies you can try out right away. This is an excellent resource for those who are seeking free mental health resources for writers.
Positive Psychology: Writing Therapy: How to Write and Journal Therapeutically
This guide from Positive Psychology explains how creativity and wellness go hand in hand, explaining the benefits of using writing as a therapeutic exercise to help you take the reins on your mental health.
Publication Coach: How Cognitive Behavioral Therapy Can Help Writers
This article discusses the mental health techniques of CBT and how they can be employed during difficult parts of the writing process. It also makes the important link between a writer's productivity and their own mental wellbeing.
Therapy and Counseling Services for Writers
The tried-and-true option for dealing with mental health issues is through direct counseling, which is seen as one of the most effective ways for individuals to approach personal issues. Indeed, talking through one's problems can be critical to writers' mental health; though you may be used to sharing your innermost thoughts with the blank page, the supportive ear of another can do wonders in turning your mindset around.
The resources listed below link to counseling services that are specifically designated as being for artists, writers, and other creatives. However, if you can't find a therapist in your area from the provided organizations, don't fret – many other options for therapeutic services are out there that could accommodate your needs.
Write By Night: Writer's Block Counseling
Though named "Writer's Block Counseling," these services are available to help writers with more than just finishing their novels. They are supportive programs customized around your needs to help address a range of writers' mental health needs.
ZenCare: Artists' Mental Health
This platform is designed to help individuals find therapists in their area. Their search function includes a tag for those specializing in artists' mental health, which is a category that certainly includes writers.
Taking the next steps to start a creative writing career
While sitting down to write feels like an immense chore to some, for others, it is a calling. Those who are determined to start careers as creative writers are often unshakable in their convictions and sense of purpose. If you know that you are called to pursue a career in creative writing, CreativeWritingEDU.org has all the resources you need to launch a thriving career.
The first step to becoming a working writer is receiving your degree. Our Creative Writing Degree Guide provides extensive information on the different options out there for creative writers and the questions they should think through before applying to writing programs.
For additional information on career paths, personal perspectives on the writing process, tips and tricks for new writers, and more, visit our blog here.
Finally, visit our homepage for a general overview of the lay of the land for aspiring creative writers as well as an index of creative writing programs by state.