<!- mfunc feat_school ->
Featured Programs:
Sponsored School(s)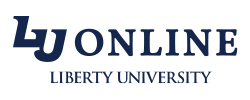 <!- /mfunc feat_school ->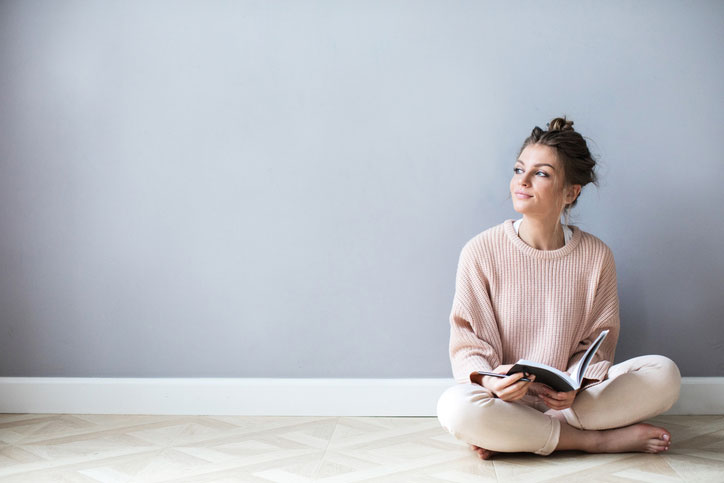 You've been telling stories since the first time you could string together a sentence. During recess, friends hung on to your every last fabricated word as you told them about the ghost you saw in the cafeteria. High school English teachers commended your imagination and prose, and math teachers reminded you that you can't be good at everything.
And now you're here, figuring out what to do with that part of you that is ready to churn the innate gift for storytelling into something that will make a real difference in your life – a bachelor's degree in creative writing. 
Your entire education up until this point has led you to this very moment – it is time to choose your four-year college or university and declare a major. So now the question is…  
What college or university should you attend for your bachelor's in creative writing?
Selecting the college or university where you will earn your creative writing bachelor's degree comes down to factors that include everything from what you find in the course catalog to where the program is located. If you're at the very beginning of your college career, you still have prerequisites to complete before focusing solely on creative writing coursework, which could play a part in where you start your degree and when.
It is also important to consider which type of writing bachelor's will benefit you the most – a Bachelor of Arts or Bachelor of Fine Arts in Creative Writing… or a Bachelor of Science in Writing (Yup. Science.). 
This handy guide is the result of research and years of our own college experiences that we happily share to make these decisions as easy as possible. 
How a Bachelor's Degree in Creative Writing Offers Preparation for Life, Not Just a Career in Writing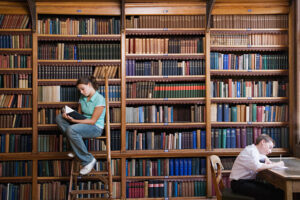 A bachelor's degree in creative writing offers the classic liberal arts education that encompasses many areas of the humanities and courses that promote general knowledge of the world around you and how it works, no matter what major it's in.
This is the essential creative writing education experience – totally reliable in its ability to deliver you to career readiness, and fully capable of pushing you out of your comfort zone and into the realm of self-exploration where writers thrive.
In addition to your area of concentration, you will get a well-rounded  liberal arts education that could touch on diverse areas such as history, anthropology, psychology, the sciences, and even religion. 
The Kind of Liberal Arts Education You Get from a Bachelor's Will Include the Courses You Need to Become a Real Writer – Not Just the Ones You Want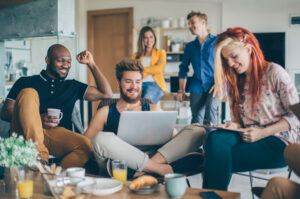 When you first start out as a college freshman, it feels like the prerequisites and other non-writerly requirements needed to satisfy an arts degree are a roadblock. Trust us, when you're in the thick of midterms, pulling allnighters in the library with nothing to eat but vending machine snacks, you'll definitely look to the sky and ask why oh why does it matter that you pass statistics when all you're really there to do is write?
In those moments it can definitely feel like an injustice to spend time and money on classes that feel distant from the act of creative writing itself, but consider that the more you know about life and history and the way people think, the richer your writing will be.
Books that are swallowed whole are the ones that breathe life into otherwise static characters. Authors who write stories with dynamic character relationships, fictional worlds so real you can smell the food mingling with spices in the pan or hear the swoosh of the sword as it slices wind on its way to a villain.
But hold strong and stay the course, the utterly fascinating humanities classes you will encounter in addition to your creative writing classes could everything from literature to thought and image to European Jewish writers to women writers of the middle ages.
The purpose of a four-year degree is manifold. Not only does it prepare you for a career in writing, but it also gives you a well-rounded education that in turn gives the world a multifaceted human who is equipped to contribute to society and even the greater good of humanity.
If that sounds lofty, consider the schools of Ancient Athens. Those were precisely the original goals of a fundamental liberal arts education laid out by philosophers, and masters of rhetoric, from Plato to Socrates.
BA, BFA, or BS – Writing Bachelor's Degrees of All Stripes Offer Serious Career Preparation
We'd wager a confident bet that all this time you've been considering a bachelor's in creative writing, you assumed it would be a Bachelor of Arts. But did you know there are options to earn a Bachelor of Fine Arts in creative writing and even a Bachelor of Science in writing too?
We didn't when we were first starting out as writing students ourselves, so we did some digging and hit a goldmine of information that helped us to define and decide upon the creative writing programs best suited to our individual needs and goals.
Here's the breakdown:
Bachelor of Arts in Creative Writing
The quintessential liberal arts education and the most common four-year degree for creative writing undergrads.
Bachelor of Fine Arts in Creative Writing
An esteemed fine arts degree that leans heavily into the literary arts and humanities, providing exceptional preparation for an MFA.
Bachelor of Science in Writing
English writing may not be a science itself, but it's structure and rules track with an analytic worldview, giving the BS a place in less creative areas of writing.
BA vs Bachelor of Fine Arts (BFA) in Creative Writing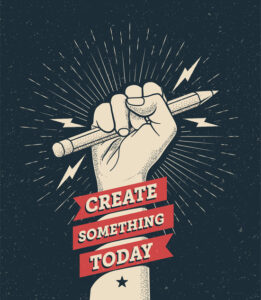 The difference between a Bachelor of Fine Arts and a Bachelor of Arts is the concentration in coursework. While the Bachelor of Arts spotlights several areas of the sciences and humanities, the Bachelor of Fine Arts pays special attention to an education specifically in the arts. 
Whether a BA or BFA, students are required to complete at least 120 credits, with some programs including as many as 128. How these credits are distributed among arts and humanities, though, depends on which of the routes you take.
A BFA differs from a BA in the ratio between courses that are purely steeped in the arts and those that would be considered general studies:
With a Bachelor of Fine Arts in Creative Writing, something close to 75% of your studies would be focused exclusively on the arts. In your typical 120-credit bachelor's program, that works out to approximately 90 creative arts credits and 30 liberal arts credits. 
Naturally, with a BFA you can expect extra extensive studies and workshops in poetry, fiction, nonfiction, classics, and, creative nonfiction to name just a few. 
Bachelor of Science in Writing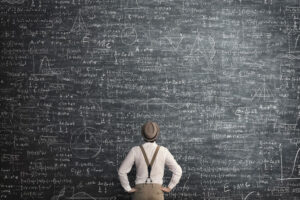 All this talk about creative writing being a form of art and here we are about to discuss the fact that some writing programs offer a bachelor's in science. Sounds like a bit of a stretch, doesn't it? We thought so too during our own initial steps in researching creative writing programs for our own education, but it makes a ton of sense and here's why:
Writing begins with observations of human behavior, studying it in conjunction with craft makes for deeply compelling storytelling. 
If this sounds like something you'd like to explore, here is a little of what you might expect while earning your Bachelor of Science in Writing:
No surprises here. The BS options you find out there will be decided less focused on artistic expression and the creative side of writing, and more geared toward careers in academic, technical, scientific, textbook, and other nonfiction and instructional types of writing.
There's a tremendous need in the world for writing that focuses purely on clarity and concision, and that's exactly what a Bachelor of Science in Writing will help you do.

Your Favorite Author Might Have Spent Time in the Lecture Hall – on Both Sides of the Podium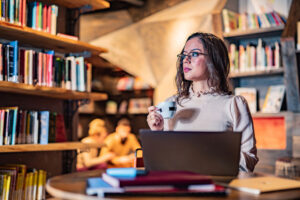 You've stuffed them into your carryon bag for the airplane ride across the country. They've provoked some of your innermost thoughts while riding the uptown train at rush hour. Your dog shares their name…
Your favorite author — the one responsible for influencing how you view literature and the world. They have been part of your life in one way or another from the moment you first picked up their book.
But what would happen if they were standing before you (or talking to you from their office during a weekly Zoom meeting), pouring into you all their knowledge about artistry and industry? Imagine being their student and how lucky many have been to learn from masters such as these (then go enroll in your first creative writing course so you can one day do the same).
Neil Gaiman (Coraline, The Graveyard Book, American Gods) has taught an advanced writing workshop at Bard College.
Joyce Carol Oates (Blonde, We Were the Mulvaneys) has taught at Princeton and University of California, Berkeley. 
Rachel Kadish (The Weight of Ink, From a Sealed Room) has taught courses at Bar Ilan University, Boston College, New York University, and summer residencies at Harvard University. 
Toni Morrison (The Bluest Eye, Song of Solomon, Beloved) had an extensive career as a professor at Texas Southern University, Howard University, the State University of New York at Albany, and Princeton University.  
Colson Whitehead (Harlem Shuffle, The Underground Railroad, Nickleboys) has taught at the University of Houston, Columbia University, Brooklyn College, Hunter College, New York University, Princeton University, and Wesleyan University.
Minor Decisions Can Make a Big Impact on Your Bachelor's in Creative Writing Program
First and foremost, declaring a minor is not a mandatory requirement for your bachelor's degree. However, you might find at some point that you've earned enough credits in a particular field and decide that you may as well declare it your minor.
Choosing your minor might come to you organically, or it might be a more methodical decision.
It's also a good idea to declare a minor if you know that the career you're aiming for after graduation will be packed with equally qualified candidates, or if you simply want to expand your breadth of knowledge and effectively specialize in an area that aligns with the ways you will be applying your writing talents.
If your interest is in writing historical fiction, let's say, then history would be a smart choice for a minor. Pretty much any minor can benefit your craft.
Here are a few minors that combine well with creative writing. 
Start your own publishing house, magazine, journal, or all three! Or apply to work at established publishing houses. A minor in business will show that not only are you passionate about words, but you know how to do what it takes to run a successful business as well. What an asset!
Celebrities are being touted as multihyphenates but there is none more influential than someone who is a writer and a teacher.  Taking great liberty with the old George Bernard Shaw adage, those who can, do. Those who can change lives, teach.
Stories are told in limitless mediums and it's no secret that film is one of them. Gosh, can you imagine the audience you could captivate with skills in both writing the story and executing it on the silver screen? Do not ever limit yourself or your stories to one mode of communication. You've got ideas and there are people who need to hear and see them.
Take the same sentiment from above and add the electric buzz that can only be generated between performers on stage and an audience leaning toward them from their red velvet seats. There's nothing like it.
There's no denying the connection between good writing and politics. As a writer with an interest and/or career goals in politics you'll have the power to shape how people think about policy.
Even if it seems logical to choose a minor connected to creative writing in some capacity, but your gut instinct is moving you in a completely different direction – trust it. Trust yourself. 
Earning a Bachelor's Degree in Creative Writing Is More Practical Than Most People Think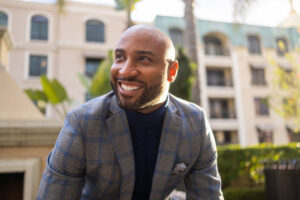 If you're still teetering on the fence between needing a creative writing bachelor's degree at all, consider this: The correlation between earning a bachelor's degree and living a comfortable lifestyle is undeniable when looking at the facts on the ground.
2022 data from the U.S. Bureau of Labor Statistics shows the median national monthly income with a bachelor's degree to be better than $5,200, well above the national median of about $4,000 for everybody in the workforce. Compare that to the $3,200 per month you could expect to earn with a high school diploma. Even an associate degree puts you below the national median, with monthly earnings of less than $3,900 expected.
Even if money isn't everything, there's no arguing that it isn't very, very important. And hey – this is the section about pragmatism after all. When you consider that the unemployment rate in America for those that hold a bachelor's degree is half what it is high school educated Americans, the point really hits home.
A bachelor's degree is almost a necessity these days if you want to be considered a competitive applicant in the workforce. Earning a bachelor's in your preferred field of creative writing not only fulfills your desire to develop your craft, but it also sets you up for success as a job candidate in many other fields. 
Completing your bachelor's degree is a wise life decision. You already know that. But there's a sweetness to earning a degree in creative writing that transcends all the facts and figures that support that kind of practical wisdom.