<!- mfunc feat_school ->
Featured Programs:
Sponsored School(s)
<!- /mfunc feat_school ->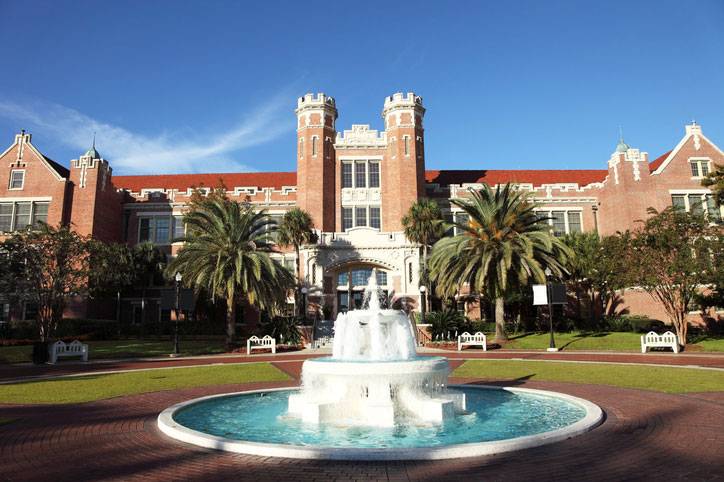 Florida is where art and culture come to play. Offering a sub-tropical climate, Latin and Caribbean influences, and sugar-white beaches framing cobalt waters, the Sunshine State has long been an outlet for artistic, imaginative minds who have something to say.
An open mind and your favorite pair of flip flops are all that's needed here. Take in an arts festival like the famous Art Basel Miami, and chances are you'll be rubbing elbows with celebrities and artists alike. Grab a margarita at the Green Parrot Bar in Key West as you listen to eclectic bands rock their famous stage. Adopt a laid-back vibe and spend a lazy afternoon kayaking the mangrove tunnels in Sarasota. Grab your favorite longboard and head to Cocoa Beach for an afternoon of waves and salty air. It's all here in Florida.
For Florida's creative writer, every day is a good day for inspiration, whether the quiet shoreline of Sanibel Island or the nightclubs of South Beach serves as your muse. Florida has it all – history, culture, tradition, natural beauty, bright lights, and an undefined energy that's always welcomed artists of every kind to stay and create.
Get involved, start networking, and then take the leap and begin sharing your work with other fellow writers. Then, once you're ready to turn your love of the written word into a career that's both personally fulfilling and financially rewarding, you'll want to check out the creative writing degree programs to be found in Florida and beyond. It's an exciting adventure, so grab your trusty journal and those flip flops and get started.
Bootlegging, Six-Toed Cats, and a $20,000 Swimming Pool: Ernest Hemingway's Key West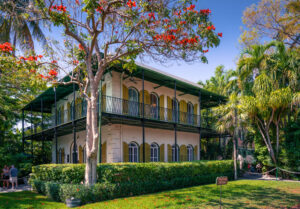 Ernest Hemingway, an American poet and author, found inspiration in Key West, and it's easy to see why. This stunning Florida Keys island boasts some of the most beautiful surroundings in the world, including sunsets that are so striking they're celebrated. (Locals and visitors alike know that Mallory Square hosts a nightly Sunset Celebration that can't be beat.)
Hemingway made his way to Key West in 1928 upon the advice of a fellow artist and writer. Hemingway's route from Paris to Key West took him through Havana, Cuba, and it was this journey that inspired his novel, To Have and Have Not, a gripping tale about a fisherman forced to make ends meet during the Depression by smuggling contraband between Florida and Cuba.
Both Hemingway and his wife, Pauline, quickly fell in love with Key West and the people there and soon began to look for a home to settle in. Many of the characters of To Have and Have Not were inspired by the people Hemingway met in Key West.
In 1931, they bought a home on Whitehead Street and became permanent residents. Though the home was in a state of disrepair, they recognized its potential and embarked upon an ambitious restoration project in 1937-38 that included adding a pool – the first in-ground pool in Key West, in fact. Built at an exorbitant price of $20,000, the pool was a grand addition to their home. It even prompted Hemingway to jokingly say, "Here, take the last penny I've got!" as he pressed a penny into the new pool deck's wet cement.
He also wrote, either partially or in their entirety, a number of other novels during his time in Key West, including For Whom the Bell Tolls, Death in the Afternoon, and The Green Hills of Africa.
Hemingway and Pauline divorced in 1940, and he remarried and lived in Cuba for some time but continued to visit Key West until 1961.
Today, the Ernest Hemingway Home & Museum is a popular tourist destination and a National Historical Landmark. Visitors here can tour the house and view Hemingway's personal effects that include souvenirs from his many hunting expeditions and African safaris.
The grounds here are impeccably and lovingly maintained and, chances are, you'll see a six-toed cat or two sunbathing on the property. Hemingway was gifted a six-toed tomcat from the captain of the boat while making his way to Florida, and many of the cats that inhabit the grounds are descendants of Hemingway's cat.
And if you have a sharp eye, you can still find that penny Hemingway pressed into the cement.
Creative Writing Classes, Courses, and Workshops in Florida Can Prepare You for a Creative Writing Degree
Regardless of which area of Florida you call home, chances are there's a writing workshop, poetry slam, or writing convention nearby. Florida's eclectic culture has always inspired artists and encouraged them to pursue their craft, and today it's no exception. Where and how you'll get involved is up to you, but there's never a shortage of opportunities awaiting you.
Daytona Area Fiction Writers is a great community of creative writers who gather every week to critique original works by fellow members. When it's your turn, you'll submit up to 20 pages of your writing to the other members, so they can read it and prepare to give you their feedback at the next meeting. All forms and genres of fiction are welcome here. It's a little intimidating, at first, but you'll appreciate the constructive feedback.
We Write Here Black and Women of Color Writing Group is a Tampa writers group that aims to help black women and other women of color reach their writing goals. It's a popular group (they currently have more than 450 members), but they're always open to new members with a creative voice and a love of the written word. Just make sure to register for a future writing group meeting to get in on the fun.
Wordier Than Thou Meetup for Writers and Book Lovers is a lively group based out of St. Petersburg. This supportive community of writers frequently gets together for workshops, open mic nights, and author readings. It's a big group of more than 2,300 active members, but there's always room for one more.
The Florida Gulf Coast chapter of Sisters in Crime is part of a nationwide writing group with more than 70 chapters across the country that's focused on supporting women writers of crime fiction. Pop in on one of their monthly online meetings and then head to their regular community events like books festivals and workshops for an opportunity to get to know your fellow "sisters in crime."
The Miami Dade College Miami Book Fair is home to a host of programs and events for emerging writers and artists. They offer non-credit creative writing workshops and host an annual creative writing conference that includes craft talks, a publishing seminar, workshops with bestselling authors, and even individual manuscript consultations with a literary agent. And if the thought of writing alongside fellow writers while taking advantage of happy hour cocktails sounds like a good time, they also host First Draft – a series of informal writing events that begin with an interesting writing prompt and a cold drink.
Not to be outdone by all the cool happenings in and around Florida, the state's literary magazines are where you'll find inspiration and a chance at publication.
Miami's Gulf Stream Magazine is a popular publication that features the work of emerging and established writers and artists. They're always on the lookout for unpublished fiction, poetry, creative nonfiction, and visual art.
Saw Palm: Florida Literature and Art is a literary journal that's produced by the MFA program at the University of South Florida. Whether you live in Florida or across the country, they want you to submit your original work of poetry, fiction, or creative nonfiction, as long as it's Florida-themed.
The Southeast Review is a national literary magazine produced by the English Department of Florida State University and edited by grad students. They publish literary fiction, creative nonfiction, poetry, book reviews, and art. This publication is available in print and online, and they offer four $500 awards annually in four categories: art, short story, nonfiction, and poetry.
Writing Colleges in Florida Offering Bachelor's and Master's Degrees in Creative Writing Provide a Path to Becoming a Writer
Writers write, and there may be no better place to do so than in Florida. Whether you're meeting fellow writers for cocktails and writing workshops in Miami; having your work critiqued or critiquing the work of others through writers groups in Fort Lauderdale, or attending a writers conference in Kissimmee, there are more than enough options in Florida to keep you engaged in the writing community and working on your craft.
But when you're ready to take the leap and make your writing not just a part-time pursuit but a full-time job, you'll want to consider the value of earning a Bachelor of Fine Arts (BFA) or Master of Fine Arts (MFA) in Creative Writing among other undergraduate and graduate degree options in the field. Fine arts degrees have become popular creative writing programs in Florida and across the nation, while a BA in English with a creative writing concentration will always deliver exactly what any writer needs.
Creative writing degree programs provide aspiring writers with a solid foundation in theory, unmatched hands-on learning experiences, and outstanding guidance and mentorship from dedicated instructors who are also often published writers.
Bachelor of Fine Arts (BFA) and Other Bachelor's Degrees in Creative Writing in Florida
Accreditation: SACSCOC
Degree: Bachelor – BFA, BA
Private School

Accreditation: SACSCOC
Degree: Bachelor – BA
Public School

Ringling College of Art and Design
Accreditation: SACSCOC
Degree: Bachelor – BFA
Private School

COLLEGE OF ARTS AND SCIENCES
Accreditation: SACSCOC
Degree: Bachelor – BA
Private School

COLLEGE OF SOCIAL SCIENCES AND HUMANITIES
Accreditation: SACSCOC
Degree: Bachelor – BFA
Private School

University of Central Florida
COLLEGE OF ARTS AND HUMANITIES
Accreditation: SACSCOC
Degree: Bachelor – BA
Public School

COLLEGE OF LIBERAL ARTS AND SCIENCES
Accreditation: SACSCOC
Degree: Bachelor – BA
Public School
COLLEGE OF ARTS AND SCIENCES
Accreditation: SACSCOC
Degree: Bachelor – BA
Private School

University of South Florida
COLLEGE OF ARTS AND SCIENCES
Accreditation: SACSCOC
Degree: Bachelor – BA
Public School

COLLEGE OF ARTS AND LETTERS
Accreditation: SACSCOC
Degree: Bachelor – BA
Private School

Master of Fine Arts (MFA) and Other Master's Degrees in Creative Writing in Florida
Florida Atlantic University
DOROTHY F. SCHMIDT COLLEGE OF ARTS AND LETTERS
Accreditation: SACSCOC
Degree: Master – MFA
Public School

Florida International University
ARTS, SCIENCES, AND EDUCATION
Accreditation: SACSCOC
Degree: Master – MFA
Public School

COLLEGE OF ARTS AND SCIENCES
Accreditation: SACSCOC
Degree: Master – MFA
Public School

COLLEGE OF ARTS AND SCIENCES
Accreditation: SACSCOC
Degree: Master – MA
Private School

COLLEGE OF ARTS AND SCIENCES
Accreditation: SACSCOC
Degree: Master – MFA
Private School

University of Central Florida
COLLEGE OF ARTS AND HUMANITIES
Accreditation: SACSCOC
Degree: Master – MFA