<!- mfunc feat_school ->
Featured Programs:
Sponsored School(s)
<!- /mfunc feat_school ->
Vermont is home to a lot of writers. It's funny – even official government data from the Bureau of Labor Statistics tracking job market trends shows Vermont in the number two spot among states with the highest concentration of writers and authors.
What is it about little 'ol Vermont that gives rise to so much writing talent?
It can't just be some combination of quaint small town charm, striking fall colors, or the scenic splendor of places like Lake Willoughby, Quechee Gorge, and the Champlain Islands that make for great writing material. There has to be something beneath the surface of it all that stirs the hearts of people compelled to write.
And, while the state's panoramic backdrop is certainly impressive, it's not nearly as impressive as the writers who've found a home here.
Some of the American Literary Greats Touched the Landscape of Virginia, If Only for a While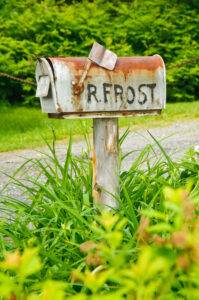 Robert Frost was without a doubt one of history's greatest poets. He lived in Shaftsbury and wrote much of his poetry there. His piece Stopping by Woods on a Snowy Evening, one of his most famous, was written at the dining room table of his house in Shaftsbury. His poetry was popular for its simple stories and characterization of rural life. It was during his time in Shaftsbury that he hit his prime as a poet. Though he and his family only lived there for nine years, he won his first Pulitzer Prize for New Hampshire at that time. It was Frost's connection with the land there that inspired much of his work. Today, his home in Shaftsbury, known as the Robert Frost Stone House Museum, is a National Historic Landmark owned by Bennington College.
Sinclair Lewis, a renowned novelist, was born in Minnesota but spent much of his life in Vermont. In the summer months, he and his wife stayed at their 300-acre homestead, Twin Farms, in Barnard. He wrote a total of 24 novels and more than 70 short stories and plays and is best remembered for his works Main Street and It Can't Happen Here. In 1926, he won the Pulitzer Prize for his novel Arrowsmith, but he declined to accept the award and was the first to ever do so. Sinclair disagreed with the sentiment that a contest should praise one book or writer over another, and he also didn't feel that any one person or committee was competent enough to choose a best novel.
Chris Bohjalian, a long-time Lincoln resident, is another literary giant to hail from Vermont. His prospectus includes over 20 best-selling fiction books, three of which have been made into movies, and a slew of literary accomplishments. Some of the awards he's accumulated include the New England Society Book Award for The Night Strangers, the ANCA Arts and Letters Award for The Sandcastle Girls, and Best Lifestyle Column for Idyll Banter by the Vermont Press Association. Many of his writings have also been chosen for Best Books of the Year by organizations like The Washington Post, Library Journal, and Bookpage.
Vermont's exquisite backdrop has been a vacuum-like force bringing writers here for centuries and its unique diversity an added boon for literary expressionism. Today, large cities like Burlington are still hotspots of meaningful connection for up-and-coming writers.
Ultimately, though, it's earning a degree in creative writing that will bring out what you have to offer. It's the process of earning a BA or BFA (Bachelor of Fine Arts) in creative writing that makes the writer, not the holding of the degree. And for eager grad students interested in an MA or the lauded MFA (Master of Fine Arts) in creative writing, that process holds the real possibility of bringing out greatness.
Vermont's Creative Writing Classes, Courses, and Workshops Can Prepare You for a Creative Writing Degree
By now, you've realized that a writing career isn't accomplished by following a prescriptive, predetermined path. There's no rigid outline that's going to promise you success. A career in writing is simply not as traditional as most other professions. Writing is more like a literary expression of an author's thoughts, feelings, passions, and convictions. It's something unique that the writer creates from deep within, so unique, in fact, that no two writers take the same approach. You'll find that your journey as a writer emerges as you get to know yourself.
Developing yourself as a writer, then, means you'll need an outlet for self-reflection – a place where you can question your thoughts, challenge your ideas, and find your direction. Getting involved with your local writing community is the best way to accomplish this.
The League of Vermont Writers is a group committed to providing a supportive environment for all who share a love of the written word. They host open mic nights where you can get your work heard and critiqued, as well as live author events where you get a chance to meet-and-greet with published authors. The League of Vermont Writers also hosts quarterly programs where you can network and promote your work, interact with other writers, and learn more about the process of getting published. Meetings are rotated to different locations throughout the state but typically include Burlington and Rutland. The group also offers writing workshops that cover topics like character development, book proposals, and publishing.
The Burlington Writers Workshop is another resource you'll want to check out. Through virtual and in-person workshops in Burlington, Montpelier, and Middlebury, you'll have the opportunity to network with professional writers and participate in workshop events with peer critique. Panel discussions, group readings, and open mic nights are added benefits you don't want to miss. The Lit Group is a subgroup which puts on book reading workshops and panel discussions once a week to help writers learn more about the publishing process. Its publication, Cold Lake Anthology, comes out every year and exclusively features the writings of Vermont authors.
Be sure to check out your local literary circulars, too. The Green Mountains Review is a literary print magazine that publishes poetry, essays, fiction, and creative nonfiction. This is a highly respected publication which has been recognized by The Boston Globe as a top-ten literary magazine in New England. Written work from this journal is regularly selected for prestigious awards like Best American Poetry, Best American Essays, and Pushcart Prize.
Another esteemed publication to follow is the New England Review, a quarterly publication of Middlebury College. It publishes mainly poetry, fiction, nonfiction, essays, and travelogues but is always on the lookout for fresh talent pushing the boundaries of convention. If your submission is selected for publication, you'll receive a rate of $20 per page as well as two print copies and a 1-year subscription. The New England Review will be publishing an issue in December of 2023 that is exclusively dedicated to emerging writers, so if you've never been published before, it's an excellent opportunity to get your work out there.
Writing Colleges in Vermont Offering Bachelor's and Master's Degrees in Creative Writing Provide a Path to Becoming a Writer
At the end of the day though, it's a formal education in creative writing that's going to set you up for success. It's the final piece that hardens you to criticism, gives you the experience to know you can start from nothing again and rebuild, while helping foster connections and comradery that will last your whole life. A degree in creative writing is what distinguishes the professionals from the amateurs in this field – and it's worth every bit of the effort it takes to earn.
Bachelor of Fine Arts (BFA) and Other Bachelor's Degrees in Creative Writing in Vermont
Accreditation: NECHE
Degree: Bachelor – BFA
Private School

Northern Vermont University
SCHOOL OF ARTS AND COMMUNICATIONS
Accreditation: NECHE
Degree: Bachelor – BFA, BA
Public School

Master of Fine Arts (MFA) and Other Master's Degrees in Creative Writing in Vermont
Accreditation: NECHE
Degree: Master – MFA
Private School

Accreditation: NECHE
Degree: Master – MFA
Private School

Vermont College of Fine Arts
Accreditation: NECHE
Degree: Master – MFA
Private School