<!- mfunc feat_school ->
Featured Programs:
Sponsored School(s)
<!- /mfunc feat_school ->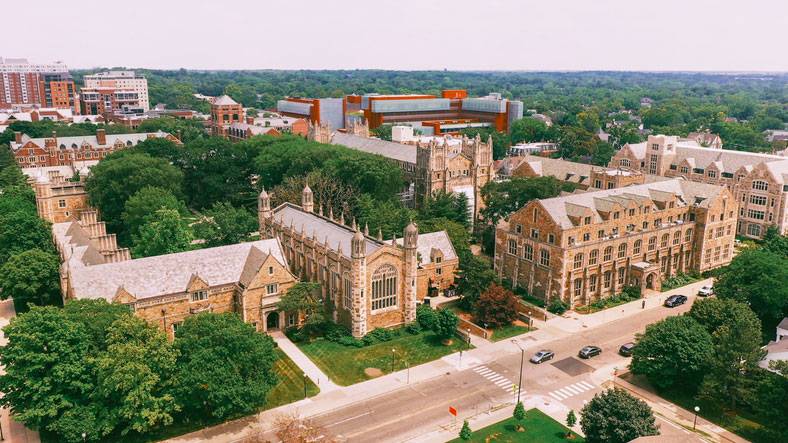 You know the spark. It's that pesky idea, that nugget of inspiration that's just begging to be explored. Once you have it, your creative mind doesn't want to let it go. So, what do you do? You grab your favorite journal (or laptop), of course, and you do what you do best – create. As writers, we know there's no telling where that creative spark will lead, but once the writing starts, the words have a way of telling you where to go.
If you're a creative writer in Michigan, you're lucky enough to be immersed in an environment where that spark of creativity is around every corner, in every small town and big city, in the state's rich heritage and its intriguing, if not always bright, history.
This stunning Great Lakes state is home to miles and miles of freshwater coastline where charming lighthouses guide the way, quaint towns like Standish and Rose City where locals are known to mark the end of a warm summer day with a glass of local wine (strawberry rhubarb, please), the thriving culinary, music, and arts scenes of Traverse City and Ann Arbor; and the sparkling cityscapes of Lansing and Grand Rapids.
Your love of the written word has nowhere to go but up in Michigan. Poetry, fiction, creative nonfiction, memoirs, screenplays – they all have a home here. Get involved with a community of creative writers. Find a cocktail bar where open mic nights provide the ideal backdrop to your poetic aspirations. Or join a writer's workshop group where support and inspiration are always shared and members have a habit of becoming friends.
And when you're ready to take your craft to the next level, start exploring the many creative writing degree programs in Michigan and beyond and learn more about how a Bachelor of Fine Arts (BFA), a Master of Fine Arts (MFA), or other undergraduate or graduate degree in creative writing can be exactly what you need to catapult your love of writing into a lifelong career.
A Beloved Teacher, a Devoted Student, and the Meaning of Life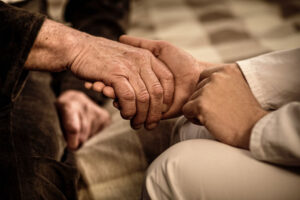 Mitch Albom always imagined life as a sportswriter. After working for a time for the Fort Lauderdale News and Sun Sentinel in Florida, he made the move to Detroit in 1985, where he became a household name with the Detroit Free Press. His work on newspapers and in radio and television earned him countless accolades and a devoted following.
So, it was by chance that Albom turned his attention to creative writing.
Albom learned his old college professor and friend, Morrie Schwartz, was dying of ALS. He remembered his first class with Schwartz, who asked him whether he preferred to be called Mitch or Mitchell. Albom said, "My friends call me Mitch," to which Schwartz replied, "And Mitch? I hope that one day you will think of me as your friend." Albom went on to take every class that Schwartz taught.
More than fifteen years had passed since Albom had seen his old college professor, who he warmly referred to as "Coach," when he saw a story about Schwartz and his ALS diagnosis on Nightline. He immediately got in touch with Schwartz and began visiting him. Their Tuesday mornings spent together during the last days of Schwartz's life (beginning as a labor of love to help Schwartz pay his medical bills) eventually became the beloved bestseller, Tuesdays with Morrie. The story was about the Meaning of Life. Schwartz was the teacher and Albom, once more, was the student. Today it remains one of the best-selling memoirs in the history of publishing.
As Albom so eloquently wrote, "The last class of my old professor's life took place once a week in his house, by a window in the study where he could watch a small hibiscus plant shed its pink leaves. The class met on Tuesdays. It began after breakfast. The subject was The Meaning of Life. It was taught from experience."
Albom went on to publish many other inspirational books, including his first novel, The Five People You Meet in Heaven, followed by For One More Day, Have a Little Faith, and a string of other New York Times bestsellers.
Though Albom's novels have become a large part of his life, he also devotes his time to many charities, including nine he started in the metropolitan Detroit area alone. And he still hosts a daily talk show on WJR radio called "The Monday Sports Albom."
Creative Writing Classes, Courses and Workshops in Michigan Can Prepare You for a Creative Writing Degree
Writing may, at first, seem like a solitary pursuit, but gathering with, learning from, and being inspired by fellow writers is one of the best ways to refine and elevate your craft. Throughout Michigan, writers like you meet for good company and creative inspiration in writer's workshops, poetry slams, open mic nights, writers conventions, and more. It's not hard to land upon a group or event where your creative writing passion is welcome – all that's needed is a love of writing and a desire to grow your skillset.
Michigan Writers, which operates out of Traverse City, is a community of writers, poets, critics, readers, and more who come together for networking, education, and publishing opportunities. Michigan Writers hosts regular events that include workshops, writers critique groups, and even potluck buffet dinners (what better way to get to know one another?), and they publish Dunes Review. You can stay in touch and keep current on their latest events through their website and email newsletter.
YpsiWrites is a nonprofit organization for writers in the Ypsilanti region. They support local writers through in-person workshops, one-on-one writing consultations, partner programming and events, and much more. Their outstanding network of volunteers keeps this organization up and running, and they always offer a nice selection of virtual writing workshops if time or geography makes it hard for you to attend in-person events.
Writing at the Ledges is a Mid-Michigan group of poets, novelists, children's writers, and historians who come together to help one another improve and refine their writing. They regularly publish anthologies, and they host writers-in-residence who are excited to share their work and their creative process with others.
Rochester Writers is another lively group that hosts events, conferences, and contests for the area's creative writers. Some of their events include an Author Fair, which welcomes published authors for readings and talks, and a Freelance Writers' Group, which meets virtually each month to discuss the business of writing.
For 25 years, Poets' Night Out has been supporting Northwest Michigan's poetry community. They're always interested in original poetry submissions for their annual Poets' Night Out contest and for a chance to be published in the Poets' Night Out chapbook. If you're a winner, you'll have the opportunity to read your work at their annual Poets' Night Out event.
Looking for publishing opportunities? There are plenty of literary magazines in Michigan that are always in search of compelling submissions from aspiring writers like you.
Third Coast Magazine, a literary journal edited by students in the creative writing program of Western Michigan University, accepts fiction, nonfiction, poetry, and drama submissions.
Blueprint Literary Magazine is a student-produced literary magazine at the University of Michigan that welcomes unpublished poetry and fiction from writers in the Ann Arbor region.
Writing Colleges in Michigan Offering Bachelor's and Master's Degrees in Creative Writing Provide a Path to Becoming a Writer
Writing, like any other art form, takes time, patience, and an unwavering commitment to improving your craft. And while the simple act of picking up that pen (or opening the laptop) and getting the words out is the first step to success, there's nothing that can replace the value of an education in creative writing.
A formal degree in creative writing through a BFA or MFA (or similar undergraduate or graduate degree) provides an outstanding foundation on which to build a career in creative writing. You'll have the opportunity to become a reader and critic of literature and, in the process, elevate your creative skillset in one or more creative writing genres. You'll also enjoy unmatched opportunities to study under and learn from published authors and scholars and participate in real-world, hands-on learning experiences.
You're sure to be impressed by the sheer number of Michigan colleges and universities that offer creative writing programs, and the growing number of programs that are offered in either an online or low-residency format. Check out these programs to learn more about how a degree in creative writing can give you the tools that will help you take your writing from amateur status to bonafide pro.
Bachelor of Fine Arts (BFA) and Other Bachelor's Degrees in Creative Writing in Michigan
ENGLISH DEPARTMENT
Accreditation: HLC
Degree: Bachelor – BA
Private School

ENGLISH DEPARTMENT
Accreditation: HLC
Degree: Bachelor – BA
Private School

Central Michigan University
COLLEGE OF LIBERAL ARTS AND SOCIAL SCIENCES
Accreditation: HLC
Degree: Bachelor – BA, BS
Public School

Accreditation: HLC
Degree: Bachelor – BA
Private School
Lake Superior State University
SCHOOL OF ARTS AND LETTERS
Accreditation: HLC
Degree: Bachelor – BA
Public School

COLLEGE OF ARTS AND SCIENCES
Accreditation: HLC
Degree: Bachelor – BA
Public School

Saginaw Valley State University
COLLEGE OF ARTS AND BEHAVIORAL SCIENCES
Accreditation: HLC
Degree: Bachelor – BA
Public School

COLLEGE OF ARTS AND SCIENCES
Accreditation: HLC
Degree: Bachelor – BA
Private School

University of Michigan-Ann Arbor
RESIDENTIAL COLLEGE
Accreditation: HLC
Degree: Bachelor – BA
Public School

Western Michigan University
COLLEGE OF ARTS AND SCIENCES
Accreditation: HLC
Degree: Bachelor – BA
Public School

Master of Fine Arts (MFA) and Other Master's Degrees in Creative Writing in Michigan
Central Michigan University
COLLEGE OF LIBERAL ARTS AND SOCIAL SCIENCES
Accreditation: HLC
Degree: Master – MA
Public School

Eastern Michigan University
COLLEGE OF ARTS AND SCIENCES
Accreditation: HLC
Degree: Master – MA
Public School
Northern Michigan University
ENGLISH DEPARTMENT
Accreditation: HLC
Degree: Master – MFA
Public School

University of Michigan-Ann Arbor
COLLEGE OF LITERATURE, SCIENCE, AND THE ARTS
Accreditation: HLC
Degree: Master – MFA
Public School

Western Michigan University
COLLEGE OF ARTS AND SCIENCES
Accreditation: HLC
Degree: Master – MFA
Public School