<!- mfunc feat_school ->
Featured Programs:
Sponsored School(s)
<!- /mfunc feat_school ->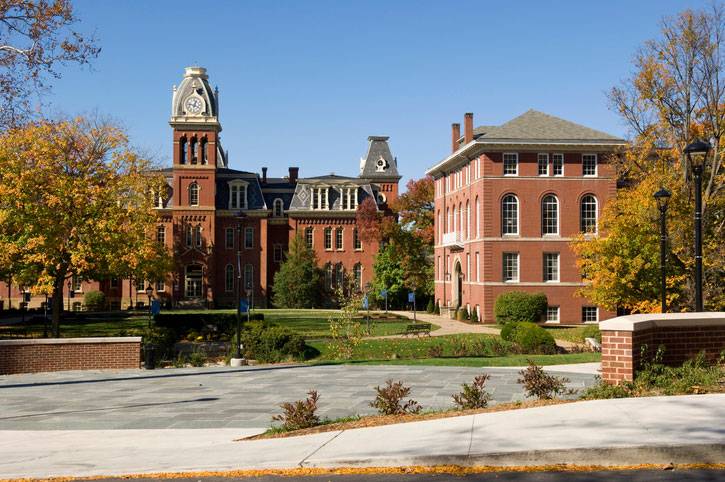 You won't find a lot in the way of bright lights and big cities in West Virginia. But that's perfectly fine – it's how we like it here. Rugged waterways cutting through densely wooded canyons; quiet back roads framed by blooming rhododendron, bluebells, and thimbleweed; miles of hiking trails leading to hidden waterfalls plunging into crystal clear pools… The dreamy landscapes here have inspired writers and other artists for generations.
Truth is, West Virginia has long been a veritable paradise for the creative writer. And it's not just the natural beauty that's bound to inspire. The Mountain State is stepped in history dating back the Civil War and home to the rich Appalachian culture that's influenced by multiple ethnicities, shaped by the coal mining tradition, and guided by myths, folklore, food, music, and a lifestyle that has remained preserved for generations.
Grab a coffee and sit a spell in one of Charleston's charming coffee shops. Take a peek into the state's past (and grab yourself a trinket or two) at one of Shepherdstown's roadside antique shops. Or travel down the Ohio River on one of Parkersburg's paddle-wheel boats for sweeping views of the landscape. Inspiration is plentiful, and your creative voice is always welcome here. So, what are you waiting for? It's time to grab your lucky pen and get to work. It's also time to start considering your options for a degree in creative writing here in West Virginia.
West Virginia's Pearl Buck and the Creation of a Modern Classic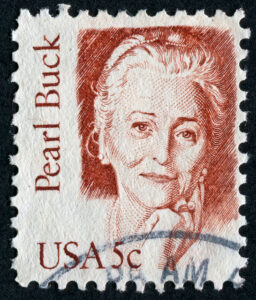 The Mountain State has long been home to artists of every kind who have left their mark on the cultural landscape. But it was Pearl Buck, born in Hillsboro, who enjoys an enduring legacy in these parts. Her novel, The Good Earth (1931), is a moving story of a Chinese peasant family and their shifting fortune during in the 1920s. The novel quickly became a bestseller, winning a Pulitzer Prize a year later. It was also made into an MGM film in 1937.
Readers were immediately drawn to her beautiful, rhythmic passages that delicately, yet skillfully painted a picture of the extraordinary life of an ordinary Chinese family. Buck was masterful in her approach, successfully capturing complex human emotions and detailing the Chinese way of life. Her knowledge of both Chinese (she spent the better part of her young adult life in China because her parents were Southern Presbyterian missionaries) and American culture established her as a reliable interpreter of the East to West.
The novel quickly became a modern classic and enjoyed a resurgence in popularity in 2004 when it landed on Oprah's Book Club list. "Reading Pearl Buck's writing feels like reading poetry to me. I just love the quiet rhythm of the words. They evoke the simply beauty of the characters and the harsh mystery of China's ancient culture." ~ Oprah
Buck went on to publish a string of successful novels in the years that followed, and she won a Nobel Prize for literature in 1938. She was a prolific writer, publishing more than 70 books, 10 children's books, and more than 100 short stories and books of poetry throughout her life.
Today, lovers of Buck's literature make their way to her birthplace in Hillsboro, where the family home is lovingly preserved as a museum, complete with original family furniture and many personal belongings.
Creative Writing Classes, Courses, and Workshops in West Virginia Can Prepare You for a Creative Writing Degree
If you're ready to share your love of the written word with others, West Virginia is the place to be. The Mountain State is home to plenty of exciting events and opportunities where amateur and emerging writers alike come together to share their work and learn from each other in a supportive environment.
West Virginia Writers, Inc. has been a staple in the state since 1977. This writer's resource and service organization is run by volunteers (they have a team of representatives who oversee the multi-county regions throughout the state) who are committed to expanding and developing opportunities for the state's writers. They host an annual summer writer's conference and an annual writer's contest and always keep up to date with independent writer's groups and their latest happenings.
Just some of the writer's groups up and running in West Virginia include:
The Crow's Quill (Fairmont) ~ The Crow's Quill specializes in the critique of prose and genre. You can submit your piece for an online critique or come to one of their twice-monthly meetings and bring a hard copy of your work if you're interested in a solid peer critique.
Pen's Writers Group (Charleston) ~ Pen's Writers Group gathers at Taylor Books on the second Tuesday of each month. All are welcome, regardless of skill level or genre. If you want a critique of your work, send them your piece before the meeting.
Friendly Fonts Writers Group (Glenville) ~ This lively group meets the first Thursday of every month at the Gilmer Public Library. Grab a coffee and come for inspiration. Their meetings include a brief reading, a writing prompt (and some time to get something down on paper), and then opportunities to share what you wrote.
The Guyandotte Poets (Huntington) ~ This group has been up and running for more than 35 years. If you write poetry, they welcome you here.
Wicked Wordsmiths of the West (Huntington) ~ Wicked Wordsmiths of the West meets the last Monday of every month at the Cabell County Public Library. Meetings consist of writing prompts followed by writing-based discussions, and they always welcome new members to join in on the fun.
When you're not flexing your creative writing muscle at one or more of West Virginia's many writers' groups, you can still get involved by submitting your work to one of the many literary publications found here.
West Virginia University Press publishes literary short fiction, fiction, and creative nonfiction by both amateur and professional writers. They publish a slew of books, e-books, and journals, so you'll have plenty of opportunities to see your work in print.
heartwood literary magazine, an online literary publication that's run by the alumni of the low-residency MFA program at West Virginia Wesleyan College, publishes previously unpublished poetry, fiction, and creative nonfiction. They welcome works by both established and emerging writers and are always interested in writing that "pushes into, dares to reveal its own truth, that takes emotional risks, that gets to the heart of the matter."
West Virginia Parkersburg's literary magazine, The Poorhouse Rag, is a clearinghouse for previously unpublished works of poetry, flash fiction, fiction, creative nonfiction, and children's stories. This year, the publication is focused on themes associated with marginalized groups (both positive social changes and continued hardships). They always welcome submissions, and (bonus!) they offer cash prizes for winners in each genre.
Writing Colleges in West Virginia Offering Bachelor's and Master's Degrees in Creative Writing Provide a Path to Becoming a Writer
It's exciting to become part of the writing community in West Virginia. Whether you're submitting your original work to literary publications or joining a writing workshop group at your local library, exploring your creative skillset and being inspired by others can be a great way to elevate your writing. But now what?
If you want to transition your passion for writing from something you do in your spare time to something that pays the bills, it's time to consider adding a degree in creative writing to your resume. The Bachelor of Fine Arts (BFA), Master of Fine Arts (MFA), and other creative writing degree options at the undergraduate and graduate levels allow students to either explore multiple genres or refine their chosen genre in a formal program. We love these programs because they also often boast outstanding opportunities for hands-on learning and excellent mentorship and guidance from a faculty of established writers.
Best of all, a growing number of colleges and universities, both in West Virginia and beyond, offer bachelor's and master's programs that are designed with you in mind. On-campus, online, low-residency, part/full-time… you're sure to find a program that meets your needs.
Bachelor of Fine Arts (BFA) and Other Bachelor's Degrees in Creative Writing in West Virginia
EBERLY COLLEGE OF ARTS AND SCIENCES
Accreditation: HLC
Degree: Bachelor – BA
Public School

West Virginia Wesleyan College
ENGLISH DEPARTMENT
Accreditation: HLC
Degree: Bachelor – BA
Private School

Master of Fine Arts (MFA) and Other Master's Degrees in Creative Writing in West Virginia
West Virginia Wesleyan College
Accreditation: HLC
Degree: Master – MFA
Private School