<!- mfunc feat_school ->
Featured Programs:
Sponsored School(s)
<!- /mfunc feat_school ->
It's impossible to talk about modern literature without mentioning Chicago. Entire genres of writing have been born here and continue to thrive. Modern poetry is one, and Chicago has been the home of major names in genera from science fiction to children's literature to crime-mystery.
The thriving and vibrant literary scene here has had the effect of attracting major publishing houses, creating an environment that naturally reinforces a healthy writing ecosystem. A multitude of writing groups, open-mic venues, and organizations for authors are epi-centered in Chicago, but also spread throughout the rest of the state to include other cities and rural enclaves.
And this is to say nothing of the top schools in the area with creative writing programs led by world renowned authors, offering Bachelor of Fine Arts (BFA) and Master of Fine Arts (MFA) degrees in creative writing, among others. These are incubators in themselves that make Illinois the perfect place to refine the craft of writing.
Across Genres, Masters of the Modern Era Hail from Chicago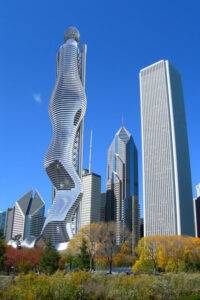 Science fiction and fantasy are what they are today thanks to the influence of Chicago native Edgar Rice Burroughs, born in 1875 when the State of Illinois was just 56 years old itself. And Burroughs was followed closely by Ernest Hemingway, born just west of Chicago in 1899.
Modern verse and prose essentially came into being here with the great Harriet Monroe launching the magazine Poetry in 1912 Chicago, which is still in circulation today as one of the leading poetry journals on the planet.
Pulitzer Prize winning poet Gwendolyn Elizabeth Brooks grew up on the South Side in the 1920s and remained a Chicago resident the rest of her life. Her classic works include Annie Allen and A Street in Bronzeville. Students at the best schools in Chicago and New York benefited from her enjoyment of teaching, which she loved almost as much as writing.
Shel Silverstein was born into 1930 Chicago and was a popular contributor to Playboy for decades before he made his indelible mark as a children's author, writing generation-defining titles like Where the Sidewalk Ends and The Giving Tree.
Chicago-born National Medal of Arts-winner Sandra Cisneros continues in the city's fine tradition as an author who's as active as ever. In 2021 she added the Chicago Literary Hall of Fame's Fuller Award to the many trophies on her shelf. Cisneros is perhaps best known for book, The House on Mango Street.
These are just a few names of many. As you develop your creative writing talents, who knows, maybe your name will be the next one added to this list?
If America is a melting pot, then Chicago is a meat grinder. It's not always pretty, but for a writer there's a lot of material to work with here.
Sandra Cisneros alludes to this in her latest novella Martita, I Remember You, a semi-autobiographical look back at growing up in Chicago. Today she still often visits family in the city and describes her experience here.
Illinois' Creative Writing Classes, Courses, and Workshops Can Prepare You for a Creative Writing Degree
For creative writers, living in Chicago is like being a kid in a candy store. Writing groups like "Sisters in Crime," "Romance Writers of America," "Chicago Screenwriters Network," "Chicago Dramatists," and, "Chicago Horror Writers," to name just a few are all within commuting distance.
After Hours is a literary magazine that publishes fiction and poetry from Chicago-area writers. Another literary magazine, Arcturus, accepts submissions from all authors without restrictions, and strives to continue in the tradition of Harriet Monroe's magazine, Poetry, still in circulation today.
When it comes to getting authors published, you need look no further than the Windy City; naturally it has that covered too. Chicago Review Press, Haymarket Books, University of Chicago Press, and Joshua Tree Publishing are all major houses based here.
And fortunately for the rest of us who don't live in Chicago, there are plenty of additional creative writing resources that exist throughout the state.
The Champaign Public Library sponsors creative writing workshops that feature lectures from local authors and break-out discussion groups.
Springfield Poets and Writers is a not-for-profit organization dedicated to fostering the development of the literary arts. It hosts monthly open mic nights, social events, and publishes the annual teen poetry anthology, Navigating the Maze.
The Rockford Writers' Guild is based in its namesake city with over 100 members from Canada and across the nation. It hosts writing events, is a hub for newsletters and publications, and is in charge of the tri-annual The Rockford Review.
These are just a few examples of what goes on in the writing scene across Illinois. Staying active with your local scene keeps your skills sharp, stimulates ideas, and is a good way of making connections with friends and professionals who can give your writing career a boost in unexpected ways.
Writing Colleges in Illinois Offering Bachelor's and Master's Degrees in Creative Writing Provide a Path to Becoming a Writer
The creative process involves periods of writers' block mixed with spurts of productivity, punctuated with experimentation into different styles and techniques, all hopefully topped off with growth.
A BFA or MFA in creative writing can make the difference between spending decades lost in the weeds of the creative process and honing your unique abilities into a finished masterpiece. These degree programs are taught by experienced writers who've been there and done that, and they surround you with a diverse atmosphere of other motivated creators.
Bachelor of Fine Arts (BFA) and Other Bachelor's Degrees in Creative Writing in Illinois
Accreditation: HLC
Degree: Bachelor – BA
Private School

ENGLISH AND COMMUNICATIONS
Accreditation: HLC
Degree: Bachelor – BA
Private School

COLLEGE OF LIBERAL ARTS AND SCIENCES
Accreditation: HLC
Degree: Bachelor – BA
Private School

SCHOOL OF LIBERAL ARTS AND SCIENCES
Accreditation: HLC
Degree: Bachelor – BA
Private School

COLLEGE OF LIBERAL ARTS AND SOCIAL SCIENCES
Accreditation: HLC
Degree: Bachelor – BA
Private School
ENGLISH DEPARTMENT
Accreditation: HLC
Degree: Bachelor – BA
Private School

COLLEGE OF ARTS AND SCIENCES
Accreditation: HLC
Degree: Bachelor – BA
Private School

COLLEGE OF ARTS AND SCIENCES
Accreditation: HLC
Degree: Bachelor – BA
Private School

WEINBERG COLLEGE OF ARTS AND SCIENCES
Accreditation: HLC
Degree: Bachelor – BA
Private School

Accreditation: HLC
Degree: Bachelor – BA
Private School

COLLEGE OF ARTS AND SCIENCES
Accreditation: HLC
Degree: Bachelor – BA
Private School