<!- mfunc feat_school ->
Featured Programs:
Sponsored School(s)
<!- /mfunc feat_school ->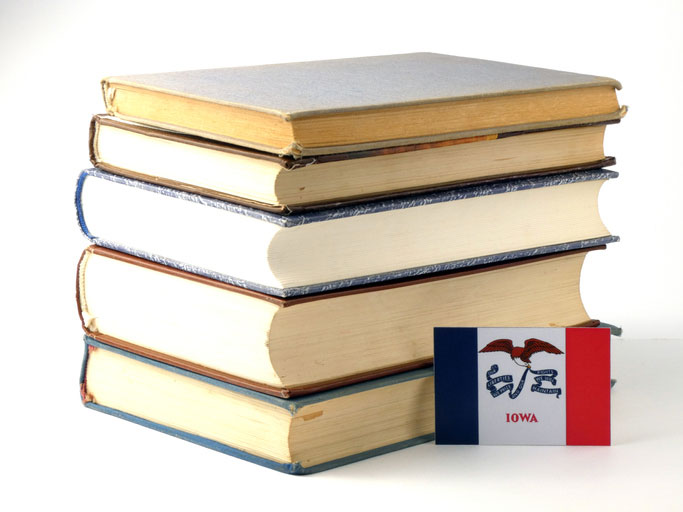 From poets, essayists, and purveyors of the short story like Phillip Roth, Flannery O'Connor and Robert Bly, to the satirical master of the modern era, Kurt Vonnegut, Iowa's literary roots run deep. In fact, Iowa City is such a hub of creativity in the writing world that it was the first location in the nation – and the third in the entire world – to receive UNESCO's City of Literature designation.
The secret to a successful writing career has always been something elusive. But many of Iowa's creative writing graduates seem to have cracked the mystery. Perhaps it's not surprising that Iowa's own Mildred Benson was revealed to be the original author behind the Nancy Drew series. When she wasn't flying planes, working as a journalist, or exploring Central American archeological sites, she was ghostwriting the first dozen or so Nancy Drew novels.
N.K. Jemisin, hailing from the City of Literature itself, cracked the code too. She's a successful sci-fi and fantasy author behind many acclaimed books, including those in the Broken Earth series that earned her a Hugo award three consecutive years in a row.
Iowa has been a literary center for more than a century, having ties to some of the world's greatest authors. With plenty of diligence and discipline, along with a degree in creative writing, you could be next to add your name to that list.
Iowa City – America's first UNESCO City of Literature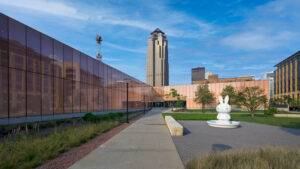 If you want to study creative writing you'll be glad to know Iowa has a strong tradition of powerhouse professors behind many of its literary success stories. In fact, the University of Iowa-affiliated Iowa Writers' Workshop (IWW) in Iowa City is such a central hub for creative writing that the United Nations Educational, Scientific and Cultural Organization (UNESCO) has designated it a UNESCO City of Literature, right after the international cities of Edinburgh, of Harry Potter fame, and Melbourne.
The author-professors affiliated with the IWW have laid a robust academic foundation in the field of creative writing that continues through the present.
Most recently, Marilynne Robinson has made her mark as a heavyweight in the literary world, having taught creative writing at the IWW for 25 years. An acclaimed author in her own right, her work having won numerous prizes including a Pulitzer for Fiction and the National Book Critics Circle Award for her novel Gilead, Robinson has also left her mark on countless future authors through her instruction.
Paul Harding was one of Robinson's students. He went on to win a Pulitzer Prize in Fiction for his first novel, Tinkers, in addition to teaching writing at Harvard.
Frank Conroy was the former director of the IWW for eighteen years, also serving beside Robinson as a fellow professor. Perhaps best known for his highly acclaimed memoir Stop-Time, he also served as the chair of the literature program of the National Endowment for the Arts.
Conroy influenced writers like David Foster Wallace who in turn would influence many others, continuing the Iowa cycle.
These names are just some of the most recent to have hailed from the IWW. The list of past IWW professors is stunning:
Kurt Vonnegut
Phillip Roth
Paul Engle
John Berryman
Students who've studied creative writing at the IWW include:
Flannery O'Connor
Robert Bly
William Stafford
John Irving
And this tradition continues today, putting you in the right place at the right time to take advantage of the amazing expertise and experience offered by Iowa's BFA and MFA professors.
Iowa's Creative Writing Classes, Courses, and Workshops Can Prepare You for a Creative Writing Degree
Writing groups, bookstore gatherings, coffee shop discussions, open mic nights, and late-night manuscript reading in a dimly lit watering hole are all common stops along the way to making it as a writer.
Fortunately, Iowa has them all. You just need to avail yourself of the experiences that will get your creative juices flowing.
The Des Moines Writers' Workshop is a place where you can find an intensive collaborative experience, receiving active feedback from your fellow member writers in all genres. It's also a hub for resources about up-and-coming authors, events, and a place to connect with literary agents.
Also in Des Moines, The Station on Ingersoll puts on an open-mic night every week where you can try out your latest short takes of prose or poetry for a comedy club audience.
The next time you're in Cedar Rapids check out the Noble Pen. It's a creative writing group that meets weekly in the evening at a local pub. Noble Pen members compare notes on the writing industry, offer each other writing critiques, and keep each other informed about the latest events in the writing world.
As a UNESCO City of Literature, Iowa City is a goldmine of writing resources, with local groups by the names of:
When it comes time to get your work published there's always the option today of digital self-publishing. There's also the well-established University of Iowa Press that's known for publishing creative nonfiction, poetry, and fiction. Each year this Iowa City-based publishing house sponsors the Iowa Short Fiction Award and the Iowa Poetry Prize, giving recipients a big break by publishing their work.
As you rub elbows with your fellow writers, you'll establish routines and rituals to inspire your creativity. This can get you a long way, but sooner or later you're going to hit a ceiling. At this point it's time to think about earning a degree.
Writing Colleges in Iowa Offering Bachelor's and Master's Degrees in Creative Writing Provide a Path to Becoming a Writer
There's a world of difference between talking about your latest manuscript with friends over drinks and getting tips from an experienced published author in a masterclass at a writing conference.
Multiply this by many semesters and you'll know the difference between amateur writing groups and professional BFA and MFA programs in creative writing.
The IWW is the best known creative writing program in Iowa, but it's far from the only one. There's no time like the present to find the BFA or MFA program that's right for you.
Bachelor of Fine Arts (BFA) and Other Bachelor's Degrees in Creative Writing in Iowa
ENGLISH DEPARTMENT
Accreditation: HLC
Degree: Bachelor – BA
Private School
DEPARTMENT OF ENGLISH AND CREATIVE WRITING
Accreditation: HLC
Degree: Bachelor – BA
Private School

DEPARTMENT OF ENGLISH
Accreditation: HLC
Degree: Bachelor – BA
Public School

ENGLISH DEPARTMENT
Accreditation: HLC
Degree: Bachelor – BA
Private School

Maharishi International University
Accreditation: HLC
Degree: Bachelor – BFA, BA
Private School

COLLEGE OF LIBERAL ARTS AND SCIENCES
Accreditation: HLC
Degree: Bachelor – BA
Public School

Accreditation: HLC
Degree: Bachelor – BA
Private School

Master of Fine Arts (MFA) and Other Master's Degrees in Creative Writing in Iowa
GRADUATE COLLEGE
Accreditation: HLC
Degree: Master – MFA
Public School

Maharishi International University
Accreditation: HLC
Degree: Master – MFA
Private School