<!- mfunc feat_school ->
Featured Programs:
Sponsored School(s)
<!- /mfunc feat_school ->
There's something unique about Georgia; how it disproportionately contributes to the literary and creative scenes of American cultural life.
Georgia is a place that inspires creative expression, even if not always for the right reasons. from the Civil War as the setting of Atlanta-native Margaret Mitchell's all-time classic Gone with the Wind, the Civil Rights era and birthplace of Martin Luther King Jr. who published some of the most impactful pieces on racial equality, to the present day as the home state of award-winning crime writer Karin Slaughter whose work has been adapted to the Netflix series Pieces of Her.
Maybe there's something special about the combination of the Atlantic breeze, the anonymity offered by a sprawling city like Atlanta, the smell of fertile earth, and the rolling hills of the Blue Ridge Mountains. As yet, the mystery behind Georgia's secret sauce for inspiring creative writers remains elusive.
MLK Jr. – A Person of Many Talents, Including Creative Writing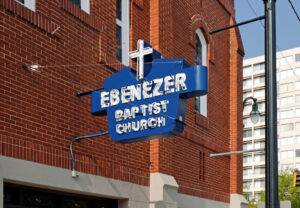 Born and raised in Atlanta, Martin Luther King Jr. is widely credited as being the most important leader of the Civil Rights movement. He is best known for the impact he made in the fight for racial equality.
But MLK Jr. also deserves credit for his exemplary skill in creative writing. Indeed, one of the reasons he was a successful Civil Rights leader was because of his writing prowess, combined with a unique talent for oratory.
In his most famous "I Have a Dream" speech given from the steps of the Lincoln Memorial in 1963 at the height of the Civil Rights movement, MLK Jr. changed the course of history in less than 1,700 words. In that short bit of inspired prose he encapsulated huge concepts, capturing the zeitgeist of the Declaration of Independence, Lincoln's Gettysburg Address and Emancipation Proclamation, Constitutional and Biblical principles, and archetypal human values, combining them all in a rhetorical masterpiece.
King's skill as a writer didn't just emerge overnight. After skipping a grade and entering high school in Atlanta's Washington Park neighborhood, King chose English as a main focus and went on to enroll in college by the time he was 15 years old. He earned a doctoral degree at 26.
Other inspired pieces by Dr. King include, "Letter from Birmingham Jail," "A Time to Break Silence," and, "I've Been to the Mountaintop."
Whether it's themes of equal rights and freedom, de-industrialization, bucolic romanticism, Southern Gothic, or even true crime, Georgian writers have a larger-than-life footprint that shapes the cultural direction of our country.
Georgia's local bookstores, coffee shops, libraries, and college campuses have long been fertile incubators for the state's literary minds. Atlanta, Savannah, Columbus, Augusta, and Macon are all hubs of opportunity where you can connect with your fellow aspiring writers and rub elbows with the pros.
Eventually you'll want to break out of doing more than just writing on the side and move up to the big leagues, which is when it's time to start considering a BFA or MFA in creative writing.
Georgia's Creative Writing Classes, Courses, and Workshops Can Prepare You for a Creative Writing Degree
Every published author will tell you there's no prescriptive path towards becoming a writer and unlocking your inner creativity.
Savannah-native Flannery O'Conner, widely known for her short stories in the Southern Gothic style which won her the US National Book Award for Fiction, bemused that most people think they know what a story is, "until they sit down to write one."
The art of creative writing has a unique meaning for each person. For some it's a process of self-discovery. For others it's the opposite: escapism. Or it could be something entirely different: observational, or cathartic.
In whatever way you choose to develop your writing talents, you'll find it helpful to cross pollinate your thoughts with like-minded creatives.
The Atlanta Writers Club (AWC) has roots stretching back over 100 years and is a prime example of a well-established organization that strives to support local writers, foster quality craftsmanship, and promote reading in general. The AWC is the group behind the twice-a-year Atlanta Writers Conference where members can gain feedback on their work from established literary artists and publishers.
Naturally the AWC also hosts an annual writing contest, serves as a hub for writers looking to establish groups online and in the Atlanta metro area, and publishes a monthly newsletter.
Workshops, events, and building a general community of camaraderie among writers are all on the menu at the Georgia Writers Association (GWA), a non-profit organization open to all aspiring writers and based in Kennesaw. GWA was founded in 1994 by a poet, a prize-winning author, and a literary agent. It provides resources for writers at all stages of development with the goal of promoting diverse works and authors.
These are just some of the writing groups meeting in any of a dozen cities at any given time throughout Georgia. You can also stay connected to your local literary scene through circulars like the Sand Hills literary magazine.
Printed every spring and published by Augusta University, submissions are accepted for creative non-fiction, creative fiction, and poetry. Sand Hills is proud to be a place where submissions from new writers are published alongside those from established award-winning authors.
Local literary journals are also recruiting grounds for professionals looking for new talent. Peachtree  Publishers, University of Georgia Press, and Top Shelf Productions are all publishing houses based in Atlanta.
Writing Colleges in Georgia Offering Bachelor's and Master's Degrees in Creative Writing Provide a Path to Becoming a Writer
Creative writers are stereotypically disorganized, pictured near a writing desk in the middle of the night, flanked by cats, next to a coffee cup and binders overflowing with scrap-paper notes. And even though the popular image of a writer at work doesn't hold true for everyone, there's no denying that a formal education in creative writing does help to bring order to chaos.
Years of writing groups, active reading, open mic nights, and offering up favorite lines with your buddies over a glass can all be tied together with professional residencies and academic discipline. There's ultimately a difference between lifelong hobby writers and those who cross the Rubicon to the world of professional storytellers.
There's no time like the present to up the professional ante and find the creative writing BFA or MFA program that's right for you!
Bachelor of Fine Arts (BFA) and Other Bachelor's Degrees in Creative Writing in Georgia
Accreditation: SACSCOC
Degree: Bachelor – BA
Private School

EVANS SCHOOL OF HUMANITIES, ARTS AND SOCIAL SCIENCES
Accreditation: SACSCOC
Degree: Bachelor – BA
Private School
COLLEGE OF ARTS AND SCIENCES
Accreditation: SACSCOC
Degree: Bachelor – BA
Private School

Georgia College and State University
COLLEGE OF ARTS AND SCIENCES
Accreditation: SACSCOC
Degree: Bachelor – BA
Public School

COLLEGE OF ARTS AND SCIENCES
Accreditation: SACSCOC
Degree: Bachelor – BA
Public School

COLLEGE OF LIBERAL ARTS AND SCIENCES
Accreditation: SACSCOC
Degree: Bachelor – BA
Private School

SCHOOL OF ARTS AND SCIENCES
Accreditation: SACSCOC
Degree: Bachelor – BA
Private School

SCHOOL OF ARTS AND HUMANITIES
Accreditation: SACSCOC
Degree: Bachelor – BFA
Private School

DIVISION OF HUMANITIES
Accreditation: SACSCOC
Degree: Bachelor – BA
Private School

Master of Fine Arts (MFA) and Other Master's Degrees in Creative Writing in Georgia
Georgia College and State University
COLLEGE OF ARTS AND SCIENCES
Accreditation: SACSCOC
Degree: Master – MFA
Public School

COLLEGE OF ARTS AND SCIENCES
Accreditation: SACSCOC
Degree: Master – MFA
Public School

SCHOOL OF ARTS AND HUMANITIES
Accreditation: SACSCOC
Degree: Master – MFA
Private School