<!- mfunc feat_school ->
Featured Programs:
Sponsored School(s)
<!- /mfunc feat_school ->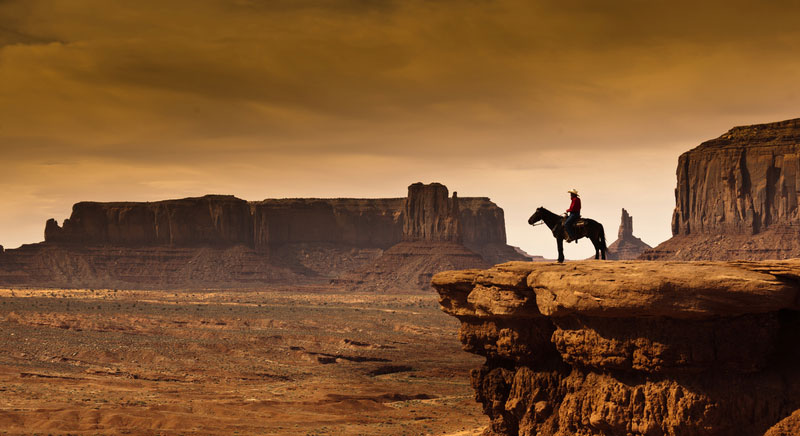 You know them by the tropes depicted on their paperback covers and dust jacket: Rugged men in ten-gallon hats facing off in empty streets at high noon … Brave women wearing plain dresses standing on cabin porches, rifles at the ready … Endless rolling prairie and distant mountains as a backdrop.
The imagery is both classic and iconic: you're looking at a Western.
The Western is a uniquely American form of literature. It didn't exist before the founding of the United States, and it grew at the same time as the fledgling country began to expand into the West.
Westerns were born in tall tales told of real individuals. Billy the Kid, Wild Bill Hickok, Wyatt Earp, and Jesse James all put in appearances in the original pulp magazines and dime novels churned out by writers working to fill the insatiable appetite city-slickers had for tales of the frontier. They are the folk tales of a new nation, a genre that mixes myth and history in a way that has become a foundational part of the American identity.
It's a uniquely narrow genre, with almost every work set in a specific time and space in history: the American West, between about 1820 and 1910. If even half the characters and action as have appeared in Westerns had actually existed in that era, the plains of Kansas would look more like downtown Manhattan.
But that doesn't stop new Westerns from being written. If you have the grit, you too can saddle up and add some tales to the canon of the American West. And you'll do it better with an education in creative writing under your belt.
Western Writers Have a Chance To Add Chapters Into an Iconic American Genre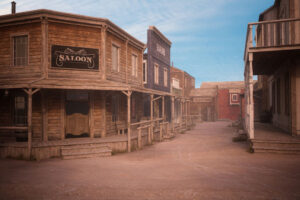 Tales of the frontier have sparked the imagination for readers for hundreds of years. The imagery of wide open, untamed spaces, rugged pioneers, heroic settlers, and savage clashes of cultures has been compelling stuff to readers living in less exciting environments. Dreams of moving West and getting rich, starting a new life, and helping forge new cities and industry were fueled by pages of pulp.
But it was after the West had largely been tamed that Western writing became a national, then global, phenomena.
Western Writing Started While the West Was Still Being Explored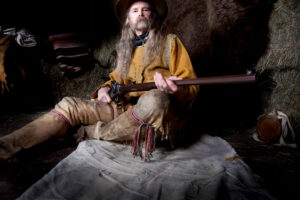 Although James Fenimore Cooper wrote his most famous novels in the early 1800s while the expansion into the West was just getting started, there was already a hundred years of history of the American frontier to explore. With his Leatherstocking Tales, Cooper not only gave Americans their first taste of what would become the Western, but he also put his fictional characters into the real events of the early years of the frontier.
Natty Bumpo and his Native American companions Chingachgook and Uncas were the prototypical cowboys and First Nations, clashing with the military authorities, fighting with other tribes, and exploring the vast spaces of the frontier in noble solitude. The plot lines of The Leatherstocking Tales had heroes who stood tall and shot straight. They also prefigured the tragic story of Native American tribes being displaced and eclipsed across the country as white settlement expanded.
Cooper was a prolific author and published many novels, biographies, and histories on a wide range of subjects. He's best remembered for his stories of the frontier, however – particularly The Last of the Mohicans. The archetypes he created remain a part of the Western genre even today.
The standard Western tropes resonate with anyone looking for the freedom to make their own way in the world. The Western has become synonymous with the very idea of America for audiences around the world. Sergio Leone brought the Western to Italy in his Spaghetti Westerns; Bollywood and other South Asian film production centers turn out Western-inspired films even today.
The western has been undergoing something of a revival in the U.S. in recent years. Just as the genre found a home in film and television in the '50s, much of the modern work for Western writers has been in scriptwriting. But new novels such as The Sisters Brothers by Patrick deWitt and The Revenant by Michael Punke have come out to both critical acclaim and commercial success. And the Western remains a strong presence in cross-genre writing:
Westerns aren't just relegated to the Old West of stagecoach and cowpoke. The modern West has been a setting for work's like Cormac McCarthy's No Country for Old Men.
A Western author today has the freedom and flexibility to deconstruct or revise the classic tropes of the genre, casting new light on the themes of Manifest Destiny and rugged individualism.
How Creative Writing Studies Boost Skills for Western Fiction Writers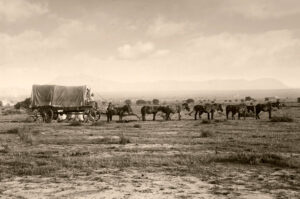 As the Western genre has evolved, so have expectations and standards among readers. Although the themes and tropes may remain the same, the trend in more recent Westerns has been toward a depth of character-building, social analysis, and cultural deconstruction that put it on par with the best works of literary fiction.
Crafting stories to that level of excellence is tough to accomplish without a professional education in creative writing. Although it's rare to find genre-specific creative writing degrees, their general emphasis on broad familiarity with different styles and forms of writing, and on technical excellence in the craft, make them an excellent resource for Western writers.
Wide-ranging Reading Assignments Bring Context to Your Writing
Context is critical in a Western. The genre builds on many themes in American history and culture. Anything you write will be viewed by the audience through a long history of similar works and social commentary. For you to hit the notes that you want to hit with your stories, you'll need to have the same depth of exposure and knowledge.
Creative writing programs offer that through intensive and wide-ranging reading assignments. You'll dive into novels, short stories, and other forms in an array of different styles and genres. It all serves to build your stylistic and technical repertoire as a writer, as well as to help you understand the context you are working within.
Regular Commitments To Produce Assignments Turns on Your Writing Tap
When you are not reading in a creative writing program, you will probably be writing. Whether it's essays, reviews of other students work, short stories, or parts of even longer pieces, professors will have you putting fingers to keyboards almost constantly. It's part of the generally accepted maxim that writers learn by writing. As Louis L'Amour said, "The water does not flow until the faucet is turned on."
A creative writing program, above all else, will turn your faucet all the way on.
Western Writers Also Work in Film and Television Production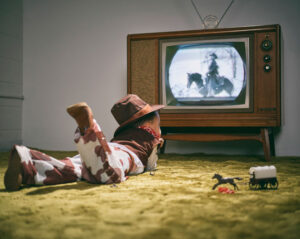 Writing Westerns today is far more likely to take you into screenwriting territory than most other literary genres. The Western has been more popular in the film format than as a dime novel since, well, novels were actually only a dime. The way most people take in their Western stories today is through shows like Deadwood, or the many works of the one-man Western revival movement, Taylor Sheridan, through films like Wind River, Hell or High Water, or the TV series Yellowstone.
For creative writers, that might mean working on developing skills as a scriptwriter alongside traditional writing studies. Scriptwriting still leans on the same skills in plotting and storytelling that you will pick up in any creative writing program.
It's primarily dialogue that drives film, so your skills in writing believable, plot-moving conversations will be key. A knack for brief but vivid description and an eye for strong visuals is also a plus in this most visual of genres.
Many creative writing programs have classes that are specific to scriptwriting. The character development and tight plotting required to write for visual media comes as part of the package in any creative writing program, however.
Earning Your Spurs Means Learning To Accept and Incorporate Critiques
Once that faucet is on, what is coming out will go in front of your instructors and fellow students. Writers are often seen as being as isolated and solitary as The Man With No Name. But the truth is that they need feedback in order to hone and polish their work to the high standards the reading public holds.
A creative writing program not only gives you that feedback, from experts who know what they are talking about, but also teaches you how to make good use of it. Being able to take and use criticism is a rare skill in self-taught writers; studying creative writing in college builds it right into the program.
Essential Foundational Skills in Writing Offer a Trailhead To Start Your Drive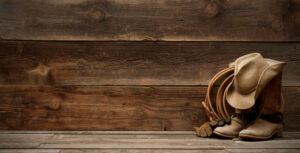 A cowboy needs their hat, boots, and rope; a Western fiction writer needs grammar, vocabulary, character-building, and plotting as their tools for bringing the herd of words to market.
Creative writing degrees cover all the basic mechanics of writing, plotting, and character development that you need out on the wild frontier of Western fiction writing.
Chats Around the Campfire Connect You With Partners For Life
With Westerns representing a fairly narrow market in the publishing industry today, you'll need all the help you can get to actually see your manuscript in print. College-level creative writing programs can give you a boost in this direction not only by helping ensure your work is publication quality, but also by connecting you with the right people in the publishing industry.
Many professors are published authors in creative writing programs, and schools regularly put on workshops that bring in other authors as guest lecturers. All of them will have valuable insights and connections in the publishing industry. Some schools actually run literary magazines in-house or have relationships with small publishers willing to take a first look at students' work.
Different Degree Options in Creative Writing Offer a Path for Every Western Writer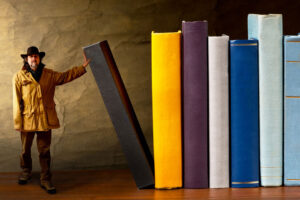 There are creative writing degrees offered at every level of college at universities across the country. No matter where you are starting down the trail from or what your destination is as a Western writer, you'll be able to find a program that meets your needs, budget, and availability.
Certificates in creative writing are quick, inexpensive, focused programs that deliver a slice of the education available in full degrees. But they are a great fit for anyone who wants to zoom in on a specific genre, style, or technique after having mastered the other elements of creative writing already.
For a more general entry-level approach to creative writing education, two-year associate degrees give you a foundation of solid writing mechanics and techniques together with general knowledge in the liberal arts. These can also serve as transfer degrees for entry into longer four-year programs, and are a flexible way to start your writing career.
A bachelor's degree in creative writing is one of those four-year building blocks that power the career of most professionals in the United States today. Offering more flexibility and specialization in writing studies than an associate's program, the bachelor's also comes with extensive arts and sciences education that rounds out your history, math, and cultural competency.
For professional writers serious about making a career in the field, a master of fine arts in creative writing (MFA) or other master's degrees in writing or English can add the kind of polish, mastery, and expertise that lead to big publishing deals or other creative careers such as in screenwriting. Graduates from these programs meet the right people and acquire the right skills to be taken seriously in the writing world, in any genre.
Anyone who is interested in taking their career into a more academic direction may go even further, earning a doctoral degree in creative writing. These are typically positioned as preparation for jobs as professors in writing programs, but may also serve to help you polish a particular piece of writing for publication.
Online Creative Writing Degrees Let You Learn While Back at the Ranch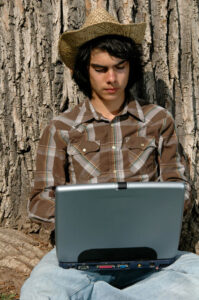 You'll find all these options available today in online formats as well as the traditional on-campus studies.
While that makes them a great option for anyone actually living the cowboy life out in the rural West, they are also a good fit for folks even in less remote settings.
That's because online, or low residency, creative writing studies bring you a lot of the same kind of freedom and flexibility that makes Westerns themselves so attractive. Instead of having to fit your life around regular class attendance and pin yourself down to a confined college campus, you are free to roam and get your work done on your own schedule.
If you prefer to spend your nights out under the stars instead of in a dorm room, just your pony and your bedroll and your laptop and cellphone hotspot, an online degree gives you that option.
With modern technology and communication tools, you can enjoy all the same close connections to professors and other students in an online degree program as you would in a traditional format.
For the cherry on top, most online creative writing programs still bring you together once a semester or once a year with your cohort. That lets you participate in intensive workshop exercises, make personal connections, and focus on honing your latest work with real world interaction on top of your online connections.
On your way to a creative writing degree, you will be riding a trail that has seen a lot of authors pass by over the years. It's not an easy one but it's well marked, and you'll find friendly riders and useful watering holes along the way.