<!- mfunc feat_school ->
Featured Programs:
Sponsored School(s)
<!- /mfunc feat_school ->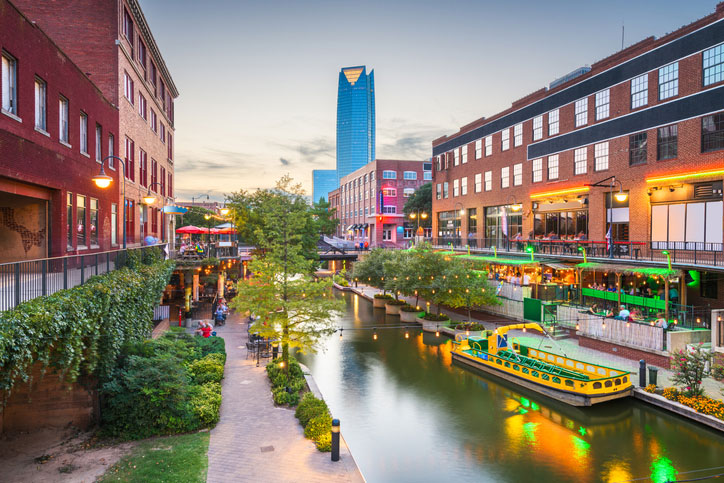 Chuck Norris has seen the invisible man. Brad Pitt played him in Deadpool 2. But these two Oklahomans haven't done what Ralph Ellison has: wrote the book on him.
OKC-native Ralph Ellison's The Invisible Man was published in 1952. That year the New York Times book reviewer said the novel heralded the appearance of a richly talented writer. It's regular required reading in any high school English classroom today.
The novel won Ellison a National Book Award in 1953, making him the first African American to achieve this distinction. Exploring themes of race, communism, and class, Time Magazine named it to its list of 100 greatest novels of all time, describing The Invisible Man as the 20th century's quintessential American picaresque oeuvre.
Before Ellison wrote his most famous work he'd lectured on James Joyce, written short stories, and made contributions to literary criticism. In other words, Oklahoman Ellison was doing what many present writers of today do: he was getting involved in his local creative writing scene, and soon after came a masterpiece.
It's not fair to call it a shortcut, but studying English or creative writing in bachelor's or master's degree program is an ideal way of learning the craft and business of writing from professors with decades of experience in both realms.
Academia can even help you figure out the creative part of creative writing. As the author of The Invisible Man adeptly put it:
Ralph Ellison is Indisputably One of Oklahoma's Great Writers, But He's Not Alone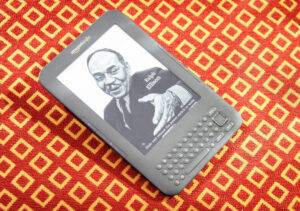 Joy Harjo was born in Tulsa and still calls the city home. Her long list of accolades includes being the US Poet Laureate, two National Endowment for the Arts Creative Writing Fellowships, a Lifetime Achievement award, a PEN USA Literary Award, and an award from the Academy of American Poets.
Starting out as a pre-med student, Harjo felt the call to express herself through the written word and changed her academic focus, earning an MFA in creative writing. Among her most famous works is her volume of poetry, She Had Some Horses. She currently serves as a chancellor for the Academy of American Poets and has worked as a professor.
Lou Berney was born in Oklahoma City and still calls the state home. He earned an MFA in creative writing and from there launched a successful career as an award-winning crime fiction author who's known to frequent local coffee shops. He's also a great example and wealth of knowledge for his creative writing students at a university in Oklahoma.
The poet known as Ai wrote eight poetry collections and won accolades from the Academy of American Poets, a National Book Award for Poetry for her work Vice, and more. She began her career as a professional poet after earning her MFA. Later in life she decided she wanted to give back to aspiring writers and became a professor at a university in Oklahoma.
There are too many great writers from Oklahoma to list here. Maybe your name will be next? Fortunately for Oklahoma, many of its best decide to become professors and pass their writing flame on to the next generation in English and creative writing programs.
Oklahoma's Creative Writing Classes, Courses, and Workshops Can Prepare You for a Creative Writing Degree
In creative writing, experience is the tried and true attribute that separates the wheat from the chaff. Oklahoma is chalk full of places where you can gain valuable experience.
The non-profit Oklahoma Writers' Federation has been around since 1968. It strives to improve the quality of writing out of respect, recognizing this art form as being equal to any other that is subject to critical analysis.
Oklahoma City Writers are a non-profit group who've been meeting for over a century. Writers of all genres and in all stages of publication (including the non-published) are encouraged to join. Meetings take place once a month at a local church in Oklahoma City. It's a great place for networking with other writers.
Every month the Oklahoma Romance Writers Guild meets at a library in OKC with the option to join in-person or online. Its mission is to promote the improvement of writing as a craft and support artists who pursue this through the medium of romance plots. If this describes you then drop by; their meetings are free and open to the public.
Writers of Victory meets once a month in Broken Arrow. You can submit a piece you'd like to read at their next meeting via their website, which also features a WOV writers' blog.
The Tulsa Review is an online journal that publishes poetry and other short written pieces –drama, fiction, non-fiction, short stories, essays, and more– once per year. It's sponsored by Tulsa Community College but anyone can make submissions.
The Oklahoma Review is an online literary magazine that publishes exceptional creative nonfiction, fiction, and poetry. Based out of a university in Lawton it accepts unsolicited submissions.
In addition to literary magazines and journals you can also find resources for getting your work published with a number of Oklahoma-based publishing houses. The RoadRunner Press based in Oklahoma City focuses on publishing general fiction, general non-fiction, and young adult fiction.
Mongrel Empire Press in Norman is committed to publishing the best work in any genre no matter the author's biography or genre. It's proud to be based in a diverse place like Oklahoma and is constantly on the lookout for great writers.
You can spend decades being involved in your local creative writing scene, all the while learning valuable tricks of the trade. The time when you're ready to take your writing to the next level, get organized, and get serious, is the time when an academic program in English or creative writing can be most advantageous.
Writing Colleges in Oklahoma Offering Bachelor's and Master's Degrees in Creative Writing Provide a Path to Becoming a Writer
Oklahoma's undergraduate and graduate programs in creative writing are taught by experienced professors, many of whom are accomplished writers themselves. There's a huge difference between getting feedback from your writing group and getting feedback from a professor who's made a career in writing and has decades of experience dealing with publishers.
Many of Oklahoma's best writers started their careers with an MFA (Master of Fine Arts) in creative writing, building on a BA or BFA (Bachelor of Fine Arts). Now it's your turn!
Bachelor of Fine Arts (BFA) and Other Bachelor's Degrees in Creative Writing in Oklahoma
Northeastern State University
COLLEGE OF LIBERAL ARTS
Accreditation: HLC
Degree: Bachelor – BA
Public School

Oklahoma Baptist University
DIVISION OF LANGUAGE AND LITERATURE
Accreditation: HLC
Degree: Bachelor – BA
Private School

Oklahoma Christian University
DIVISION OF LANGUAGE, LITERATURE AND COMMUNICATION
Accreditation: HLC
Degree: Bachelor – BA
Private School

Oklahoma State University-Main Campus
ARTS AND SCIENCES
Accreditation: HLC
Degree: Bachelor – BA
Public School

University of Central Oklahoma
COLLEGE OF LIBERAL ARTS
Accreditation: HLC
Degree: Bachelor – BA
Public School

KENDALL COLLEGE OF ARTS AND SCIENCES
Accreditation: HLC
Degree: Bachelor – BA
Private School

Master of Fine Arts (MFA) and Other Master's Degrees in Creative Writing in Oklahoma
PETREE COLLEGE OF ARTS AND SCIENCES
Accreditation: HLC
Degree: Master – MFA
Private School
Oklahoma State University-Main Campus
ARTS AND SCIENCES
Accreditation: HLC
Degree: Master – MFA
Public School

University of Central Oklahoma
COLLEGE OF LIBERAL ARTS
Accreditation: HLC
Degree: Master – MA
Public School

University of Oklahoma-Norman Campus
DODGE FAMILY COLLEGE OF ARTS AND SCIENCES
Accreditation: HLC
Degree: Master – MA
Public School