For centuries, Spanish and French explorers kept the territory's history alive through their narrative accounts of the land and its people. They were the first writers of Texas. Since then, big names in literature have carried on the tradition of sharing the story of Texas – and the stories that simply take place here.
Today, this tradition continues as contemporary writers recount the state's history from a new perspective and use its timeless expanse to set the scene of some of the most memorable works of fiction and nonfiction alike.
John Graves Isn't Too Well Known Beyond State Lines, But in Texas, He's a Legend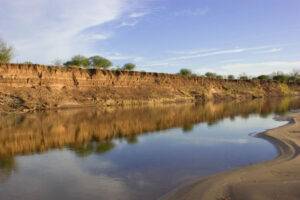 The early part of Graves' life was spent fighting in WWII, but he was injured on the island of Saipan and sent home. Upon returning to the states, he went to college, earned his master's degree, and promptly started a career in writing. He even published a few shorts in the New Yorker. When his father fell ill, though, he returned home to Texas. It was that turn of events that led him to write his first and most famous work, Goodbye to a River: A Narrative.
Graves always had a love of the land, and he feared that parts of the beautiful Brazos River would be forever altered because of the new dams. And so, he took a 3-week canoe trip down the Brazos River to enjoy it for the moment. He chronicled his trip and initially published it as a narrative piece in Holiday. Later, after adding some history and philosophy to the mix, he created Goodbye to a River: A Narrative. Its original style gained him praise, and today, the book is considered a classic. As a testament, the paddle that Graves used to navigate the Brazos River hangs as a relic at Texas State University in San Marcos.
One of Texas' best-known writers of American history is H.W Brands. Though he was born in Oregon, he's spent much of his life in Texas, from attending the University of Texas at Austin where he earned a Ph.D in history to teaching history at Austin Community College and Texas A&M University. He's written more than 30 books about U.S. history and has twice been selected as a finalist for the Pulitzer Prize. He's biographed some of history's biggest giants, including Andrew Jackson, Ulysses Grant, and Theodore Roosevelt. However, it was his biography of Benjamin Franklin – The First American: The Life and Times of Benjamin Franklin – that made him a finalist for the Pulitzer Prize in 2001. Even without having won a Pulitzer, though, Brands has certainly established himself as a literary giant and praiseworthy writer of American history.
Life in Texas has always offered an abundance of book-worthy material, more than enough to support a strong literary culture in the hot-spots for aspiring writers – Austin, Dallas, and Houston. If you're interested in becoming a writer in Texas, you'll find that networking within your local writing community will get you off to a good start. The most important piece to establishing a writing career, though, is the formal education that will hone your talent and discipline. For most that comes by way of an English degree with a creative writing emphasis. For others, it's a bachelor's or master's with a major in creative writing, or even an esteemed BFA (Bachelor of Fine Arts) or MFA (Master of Fine Arts) degree in creative writing.
Texas' Creative Writing Classes, Courses, and Workshops Can Prepare You for a Creative Writing Degree
By now, you've probably realized that becoming a writer doesn't follow a predetermined path. There's no step-by-step outline that offers the assurance of success. A career in writing is simply not that prescriptive. Writing is, by its nature, an expression of one's inner self – a glimpse into the writer's mind. It's something that comes from deep within. Your journey as a writer begins with getting to know yourself – reflecting on your feelings, examining your perceptions, and finding your vision. After all, the piece the keeps Larry McMurtry's name alive, Lonesome Dove, was written from the perspective of the American West as he, himself, had lived it.
Honing your skills as a writer, then, means you'll need to find an outlet for self-expression and inquiry – an environment where you can interact, challenge yourself, and find your voice. The best way to accomplish this is to get involved with your local writing community.
Luckily, large cities like Austin, Dallas, and Houston have tons of opportunity for the amateur writer to take advantage of. If you're interested in poetry, you'll want to check out the Austin Poetry Society. The group holds virtual meetings and hosts a bunch of events where you can get your stuff heard, like open mic nights and roundtable discussions. You can also submit to any of their special topic contests throughout the year and contend for a chance to win the top case prize of $200.
If you're local to the Dallas area, be sure to check out DAWG, the Dallas Area Writers Group. This group is open to writers of all levels and all genres and is a wealth of opportunity for developing some much-needed connections. DAWG hosts author speaking events, open mic nights, and critique nights where you can read your work and get feedback from your peers and published authors, too. Attending one of their published author presentations is a great way to learn more about how to get published as well as how to strengthen your chances of getting published. You can also submit a manuscript for publication to the group's local circular, Texas Shorts, which is an anthology of short stories written by Texas authors.
The Houston Writers Guild is a hot connection for writers in the Houston area. It doesn't matter if you're a hobby writer or a published pro, the Houston Writers Guild is open to you. This group is committed to providing an environment for writers to network, improve writing skills, and ultimately be successful. It hosts writing workshop events, critique groups, and round table discussions. Critique groups meet virtually on Tuesdays and Thursdays and in-person on Thursday evenings. Workshops are offered on Monday nights and Wednesday mornings.
It's also important to stay in the know about the happenings in your local literary scene. Local circulars like the San Antonio Review and the Texas Review are top resources for information about local literary events and excellent opportunities to get your material published and out there for a massive audience. The San Antonio Review publishes mostly poetry, fiction, essays, and reviews but takes submissions of all kinds. The Texas Review publishes creative nonfiction, poetry, and fiction pieces twice a year and offers writing contests where you can win some serious money. Top prize is the X.J. Kennedy Poetry Prize, which not only pays our $10,000, but also gets the winner published.
Larry McMurtry, essayist, novelist, screenplay writer – and Texas native.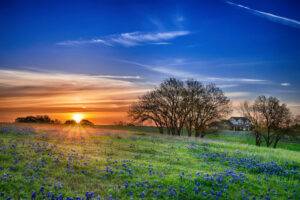 McMurtry's writing style was unique in that it countered the typical romanticized perception of frontier life in the American West. Having grown up on a ranch, McMurtry carried into his writing the Texas that he knew, and in doing so, he found great success with the release of his nearly 900-page novel, Lonesome Dove. McMurtry didn't believe in the mythological portrayal of the American cowboy, and so he used his writing to show frontier life from a different perspective.
Writing Colleges in Texas Offering Bachelor's and Master's Degrees in Creative Writing Provide a Path to Becoming a Writer
In the end, a degree in creative writing is what you need to be successful as a writer. It's the final puzzle piece that brings together what you've learned and lived in Texas, helping you make the most of your writing talent. Simply put, it's what sets the professional apart from the novice. Don't let your effort and energy be spent on a lifetime of hobby writing.
Bachelor of Fine Arts (BFA) and Other Bachelor's Degrees in Creative Writing in Texas
ENGLISH DEPARTMENT
Accreditation: SACSCOC
Degree: Bachelor – BA
Private School

Houston Baptist University
SCHOOL OF FINE ARTS
Accreditation: SACSCOC
Degree: Bachelor – BFA
Private School

Lubbock Christian University
J.E. AND EILEEN HANCOCK COLLEGE OF LIBERAL ARTS
Accreditation: SACSCOC
Degree: Bachelor – BA
Private School

DIVISION OF HUMANITIES, RELIGION AND SOCIAL SCIENCES
Accreditation: SACSCOC
Degree: Bachelor – BA
Private School

Southern Methodist University
DEDMAN COLEGE OF HUMANITIES AND SCIENCES
Accreditation: SACSCOC
Degree: Bachelor – BA
Private School
Stephen F. Austin State University
COLLEGE OF LIBERAL AND APPLIED ARTS
Accreditation: SACSCOC
Degree: Bachelor – BFA
Public School

COLLEGE OF LIBERAL ARTS
Accreditation: SACSCOC
Degree: Bachelor – BA
Public School

Texas Wesleyan University
SCHOOL OF ARTS AND SCIENCES
Accreditation: SACSCOC
Degree: Bachelor – BA
Private School

COLLEGE OF LIBERAL ARTS AND SOCIAL SCIENCES
Accreditation: SACSCOC
Degree: Bachelor – BA
Public School

University of Houston-Victoria
COLLEGE OF LIBERAL ARTS AND SOCIAL SCIENCES
Accreditation: SACSCOC
Degree: Bachelor – BA
Public School

University of North Texas
COLLEGE OF LIBERAL ARTS AND SOCIAL SCIENCES
Accreditation: SACSCOC
Degree: Bachelor – BA
Public School

University of Texas at Austin
COLLEGE OF LIBERAL ARTS
Accreditation: SACSCOC
Degree: Bachelor – BA
Public School

University of Texas at El Paso
COLLEGE OF LIBERAL ARTS
Accreditation: SACSCOC
Degree: Bachelor – BA
Public School

University of Texas at San Antonio
COLLEGE OF LIBERAL AND FINE ARTS
Accreditation: SACSCOC
Degree: Bachelor – BA
Public School

University of Texas Rio Grande Valley
COLLEGE OF LIBERAL ARTS
Accreditation: SACSCOC
Degree: Bachelor – BA
Public School

Master of Fine Arts (MFA) and Other Master's Degrees in Creative Writing in Texas
Houston Baptist University
SCHOOL OF FINE ARTS
Accreditation: SACSCOC
Degree: Master – MFA
Public School

Sam Houston State University
COLLEGE OF HUMANITIES AND SOCIAL SCIENCES
Accreditation: SACSCOC
Degree: Master – MFA
Public School

Stephen F. Austin State University
COLLEGE OF LIBERAL AND APPLIED ARTS
Accreditation: SACSCOC
Degree: Master – MA
Public School

COLLEGE OF LIBERAL ARTS
Accreditation: SACSCOC
Degree: Master – MFA
Public School

COLLEGE OF LIBERAL ARTS AND SOCIAL SCIENCES
Accreditation: SACSCOC
Degree: Master – MFA
Public School

University of Houston-Victoria
COLLEGE OF LIBERAL ARTS AND SOCIAL SCIENCES
Accreditation: SACSCOC
Degree: Master – MFA
Public School

University of North Texas
COLLEGE OF LIBERAL ARTS AND SOCIAL SCIENCES
Accreditation: SACSCOC
Degree: Master – MA
Public School

University of Texas at Austin
COLLEGE OF LIBERAL ARTS
Accreditation: SACSCOC
Degree: Master – MFA
Public School

University of Texas at El Paso
COLLEGE OF LIBERAL ARTS
Accreditation: SACSCOC
Degree: Master – MFA
Public School

University of Texas at San Antonio
COLLEGE OF LIBERAL AND FINE ARTS
Accreditation: SACSCOC
Degree: Master – MA
Public School

University of Texas Rio Grande Valley
COLLEGE OF FINE ARTS
Accreditation: SACSCOC
Degree: Master – MFA
Public School