<!- mfunc feat_school ->
Featured Programs:
Sponsored School(s)
<!- /mfunc feat_school ->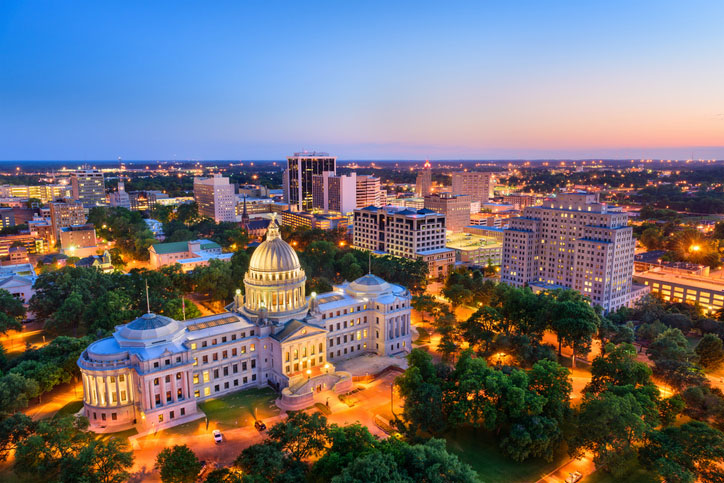 Some of the most reputed writers in American history hail from Mississippi. William Faulkner's obviously up there with the greats. You've probably seen more than one John Grisham novel on your father's bookshelf growing up. Contemporary author Jesmyn Ward's poems, essays, and memoirs are the mark of a passionate talent.
So, why not you? Why not be the one to tell the stories the Magnolia State needs to share with the world, of even the ones it would rather hide? Writing for a living can be intimidating, especially if you're going to use the bulk of your time to write a novel that may never get published. Yet, if you love the craft and take it seriously, such risks are worth it.
There are real steps you can take to increase your chances of getting published. And among them is to enroll in a creative writing degree program here in Mississippi, and come away with a BA or BFA (Bachelor of Fine Arts) for your undergraduate degree, or perhaps an MA or the esteemed MFA (Master of Fine Arts) if you've already earned your bachelor's.
Such studies demand much from their students: long hours critiquing peer work, revising 10,000-word drafts, and putting your most vulnerable thoughts onto the page for all to read.
Richard Wright: The Bravest Writer of the 20th Century
Well, at least one of the bravest writers of the 20th century. Born on September 4, 1908, near Natchez, Mississippi, Richard Wright was one of the first Black Americans to use his writing as a form of protest against mistreatment by whites.
"Native Son", his novel about a black man who accidentally kills a white woman in a state of panic, is one of the most acclaimed stories in American history. It was a best seller, and adopted into a stage play on Broadway by Orson Wells in 1941. It's the story of a man facing a world which condemns him before he can even make his case, if it were even to be heard at all.
If "Native Son" doesn't convince you that Wright wasn't one of the great talents of the 20th century, his memoir "Black Boy" will. You can't help but admire a young boy who decided to carve his own path in a series of tumultuous transfers of guardianship and the Jim Crow racism of the 1920s. You'll follow him all the way to Chicago, where he finds camaraderie, rejection, and solace in the craft of writing. His conclusion on life, and the hunger we as human beings possess for it, is summarized in the following passage:
"I would hurl words into this darkness and wait for an echo, and if an echo sounded, no matter how faintly, I would send other words to tell, to march, to fight, to create a sense of the hunger for life that gnaws in us all."
You'll find that hunger for the written word both nurtured and satiated in a bachelor's or master's program in creative writing.
Mississippi's Creative Writing Classes, Courses, and Workshops Can Prepare You for a Creative Writing Degree
But what if you're not ready for a creative writing degree just yet? School's a big commitment, and there are plenty of ways you can hone your craft before enrolling in a program.
First, get involved with a local creative writing group or class. A lot of groups offering critique do so for free. The only thing you have to contribute is your own work and thoughtful constructive criticism for your peers.
Critiquing is a tricky thing. You may know you like something, but struggle to find the words to describe why. Maybe the words you can muster don't get to the heart of your argument for or against a piece. It's a muscle many new writers haven't worked before. Exercising it will be painful like it is for any untrained muscle, but it will pay dividends if and when you decide to enroll in a BFA or MFA creative writing program.
One organization you should consider joining is the Mississippi Writers Guild (MWG). This non-profit doesn't have the air of exclusivity: you don't have to be a published author, and you don't need to write a particular genre. If you write, you're welcome to join whether you write poems or science fiction.
The MWG runs a variety of literary arts programs throughout Mississippi. For example, it partnered with the Rock River Foundation to create the Delta Blues Writing Competition, which awards $1,000 in collegiate funds to students pursuing literary careers. That's just one initiative. The MWG also has over a dozen chapters throughout the state. Members share their work as well as receive and provide criticism. Here's a list of their chapters below:
What if joining a formal organization isn't for you? Find the places where fellow writers and artists congregate. Maybe it's a district in town or a local coffee shop. Strike up a conversation with someone plugging away at a laptop. Maybe they're pursuing the literary arts as well. If so, you've just built another connection on which to strengthen your craft.
One place to check out is Coffee Prose's Midtown and Highland Village locations in Jackson. There are more than a few reading desks in each store, with bookshelves sitting behind you as you write. Lounge chairs adorn the spaces if you want to dive into a good book, and the food's isn't bad either.
Another unique spot is The Bean. The hours are a bit more expansive than your average coffee shop, largely because they serve small bites and alcohol during the evening hours. The location doesn't have that plugged-into-an-office-building feel that can deaden the creative mood, so it's a nice place to put pen to paper. 
The whole point of this is to cultivate a community in which you can write. Very few young writers can invest in the craft hermetically, and you should welcome any and all perspectives on what you produce.
Writing Colleges in Mississippi Offering Bachelor's and Master's Degrees in Creative Writing Provide a Path to Becoming a Writer
Ultimately, though, it's earning a degree in creative writing that will bring out what you have to offer. It's the process of earning a BA or BFA (Bachelor of Fine Arts) in creative writing that makes the writer, not the holding of the degree. And for talented grad students interested in an MA or the highly regarded MFA (Master of Fine Arts) in creative writing, that process holds the real possibility of being able to make a career out of writing.
Bachelor of Fine Arts (BFA) and Other Bachelor's Degrees in Creative Writing in Mississippi
SCHOOL OF THE ARTS
Accreditation: SACSCOC
Degree: Bachelor – BFA
Private School

DIVISION OF ARTS AND HUMANITIES
Accreditation: SACSCOC
Degree: Bachelor – BA, BS
Private School

Mississippi University for Women
COLLEGE OF ARTS AND SCIENCES
Accreditation: SACSCOC
Degree: Bachelor – BA
Public School

The University of Mississippi
COLLEGE OF LIBERAL ARTS
Accreditation: SACSCOC
Degree: Bachelor – BA
Public School

Master of Fine Arts (MFA) and Other Master's Degrees in Creative Writing in Mississippi
Mississippi University for Women
COLLEGE OF ARTS AND SCIENCES
Accreditation: SACSCOC
Degree: Master – MFA
Public School

The University of Mississippi
COLLEGE OF LIBERAL ARTS
Accreditation: SACSCOC
Degree: Master – MFA
Public School