<!- mfunc feat_school ->
Featured Programs:
Sponsored School(s)
<!- /mfunc feat_school ->

Kansas is inexorably linked with the literary world. For starters, the state is forever linked with L. Frank Baum's timeless The Wonderful Wizard of Oz. Rumors have it that Baum chose Kansas as a setting because of its prominence in the national consciousness at the time of its publishing in 1900.
Around the time Baum was working on his classic, a generation of women writers were just starting out. Their careers would go on to create new benchmarks for professional women and new inroads for women's suffrage.
Also around this time, Langston Hughes, before becoming the legendary playwright, poet, and novelist, was growing up in Lawrence. Hughes would go on to be a leading figure in New York's Harlem Renaissance of the '20s and '30s, part of the blossoming of literary arts and cultural expression that would fundamentally impact the direction of African American culture throughout the world.
Kansas' influence on shaping the world of literature continues to the present day with some of the nation's top writers hailing from America's heartland. The torch of this noble tradition is within reach, and with serious discipline and a degree in creative writing, it could be yours to grab and carry forward.
Some of the Most Impactful Women in Literature Hailed from Kansas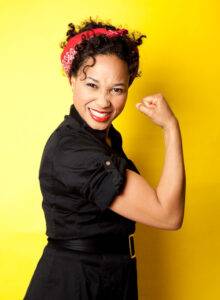 There's a legacy of woman in literature hailing from Kanasas who've played a significant role in advancing the cause of equal rights, some of whom were active even before the 19th Amendment passed in 1919, prohibiting voting discrimination based on sex.
Lawrence-native Alice Rohe, born in 1876, worked as a United Press journalist bureau chief in Rome during World War One, the first woman to hold such a high position. Throughout her career she published in the New York Times, Washington Post, National Geographic, and other well-known outlets of her day.
Rohe got her big start in writing as a kind of Carrie Bradshaw of Sex and the City fame, albeit an early-20th-century version. In the year 1900 Rohe, her sister, and their mother moved to New York City. There she landed a job at a tabloid newspaper, even getting her own column called, "The Girl from Kansas," where she wrote about the lives of professional women trying to make it in the Big Apple.
Dorothy Canfield Fisher is another of Lawrence's well known authors. In her adult life, which spanned the first half of the 20th century, she wrote more than 40 books and was known for her advocacy of women's rights. Eleanor Roosevelt named her one of the 10 most influential women in the United States.
Feminist and socialist Anna Marcet Haldeman-Julius was born in Girard, Crawford County in 1887. In 1919 she and her husband bought a printing press and would go on to publish 500 million tomes, known as, "Little Blue Books."
Widely available for a few cents, authority-challenging classics from Shakespeare, H.G. Wells, Jack London, and many philosophers were printed on pocket-sized paper note cards. To the chagrin of her critics, Haldeman-Julius was known to change the titles of classics to more sensationalist ones so they would have a wider appeal to the masses.
Today successful authors like Scott Heim and Lauren Drain have ties to Kansas; Hutchinson and Olathe, respectively.
Heim earned undergraduate and graduate degrees in English in Lawrence, and soon after published his hit novel Mysterious Skin in 1996 which would be made into an award-winning film just under a decade later.
Lauren Drain hit the national spotlight in 2013 with her New York Times best-seller book, Banished, a first-person account of her real-life experience as a member of the Westboro Baptist Church and how she was expelled from her family and religious community at the age of 21 for the crime of questioning doctrine.
Whether it's off-the-wall ideas like Heim's, a harrowing personal story like Drain's, or something altogether different, your masterpiece could be next on the list beside today's most noteworthy Kansas authors. Launching your writing career can start with earning a BFA (Bachelor of Fine Arts) or MFA (Master of fine Arts) in creative writing or similar degree.
Kansas' Creative Writing Classes, Courses, and Workshops Can Prepare You for a Creative Writing Degree
Like any expressive form of art, creative writing is also part science. There's no set formula or magic trick for how to inspire creativity. However, there is a guaranteed way you can hone your skills and grow in maturity as a writer, and that is by simply doing it – writing.
Fortunately, Kansas is chalk full of places where you can develop your writing skills. Places like writing groups and poetry readings in bookstores or coffee shops are ideal venues where you can practice your craft and receive valuable feedback from your like-minded peers.
The Kansas Writers Association holds monthly meetings in the Wichita area. It's open to writers in all genres and is a hub for resources about local conferences, workshops, and writing contests. Every year it also publishes an anthology of stories that members contribute. This year's is titled, Writers & Werewolves.
KS Writers, Inc. holds meetings at the Topeka and Shawnee County Public Library once per month. These 4.5-hour events include a critique session, workshop, discussion, lunch, and a business meeting. It publishes a monthly newsletter that will keep you up to date on everything writing-related that's happening in the local area.
If you're near Olathe, check with the city's public library for regional writing events. It just hosted an open mic poetry workshop that ran for five days and was hosted by a local artist, exploring how poetry performance can be restorative.
Kansas is also home to a number of publishing houses. Writers groups and conferences are a great place to mingle with these professionals, who are always looking for good material to promote:
Writing groups and associations can be a lot of fun and helpful in developing your skills, with some writers spending decades refining and learning in the same writing group.
But it's also beneficial to change things up and try something new, especially if you feel like your tires are spinning in the mud. This is where earning a degree in creative writing comes into the picture.
Writing Colleges in Kansas Offering Bachelor's and Master's Degrees in Creative Writing Provide a Path to Becoming a Writer
The difference between amateur and professional comes down to a degree in creative writing, whether in English or through a BFA or MFA in creative writing. It's one thing to be a hobby writer; it's another to do it for a living. In a degree program you'll be surrounded by like-minded colleagues who all share a common goal and learn from the best: published authors with decades of industry experience.
Bachelor of Fine Arts (BFA) and Other Bachelor's Degrees in Creative Writing in Kansas
Accreditation: HLC
Degree: Bachelor – BA
Private School

ENGLISH DEPARTMENT
Accreditation: HLC
Degree: Bachelor – BA
Private School

COLLEGE OF LIBERAL ARTS
Accreditation: HLC
Degree: Bachelor – BA, BGS
Public School

FAIRMOUNT COLLEGE OF LIBERAL ARTS AND SCIENCES
Accreditation: HLC
Degree: Bachelor – BA
Private School

Master of Fine Arts (MFA) and Other Master's Degrees in Creative Writing in Kansas
COLLEGE OF LIBERAL ARTS
Accreditation: HLC
Degree: Master – MFA
Public School

FAIRMOUNT COLLEGE OF LIBERAL ARTS AND SCIENCES
Accreditation: HLC
Degree: Master – MFA
Public School