<!- mfunc feat_school ->
Featured Programs:
Sponsored School(s)
<!- /mfunc feat_school ->
Virginia is a state with a unique history, distinct people, and rich culture. In fact, the state's earliest writer, Captain John Smith, was also one of its founders as it came to be the first English settlement. Even in times of war, Virginia was the place of surrender for both the Revolutionary and Civil Wars.  To say that Virginia is unique seems like an understatement, but it truly is, and the writers who've emerged from this land are no less so.
The Art of Writing is in the Air and Soil and Blood of Virginia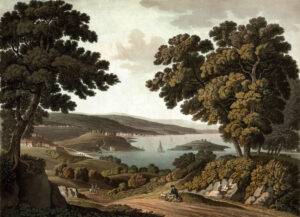 John Smith was one of the early English settlers of Jamestown colony and one of the earliest Virginia writers. In 1608, he wrote a documentary-like piece called A True Relation of Such Occurrences and Accidents of Note As Hath Happened in Virginia, which many scholars have identified as the first book written in English in the colonies. His writing was uniquely laced with an entrepreneurial spirit and doused with imagery of the beauty and promise of the New World. His most influential piece, though, was written in 1624 – A General History of Virginia, New England, and the Summer Isles – detailing a more comprehensive history of the Virginia colony during that time. Still to this today, it continues to feed us with much history about early life and times in colonial Virginia.
Barbara Kingsolver is a household name for literature lovers. She's also a long-time resident of Washington County. Kingsolver is known to have a deep appreciation of the region and frequently uses her home setting in Virginia as an inspiration for her writing. Living in an old farmhouse, she frequently spends hours writing at her desk, gazing out a set of bay windows overlooking the mountainside view and glimpsing the wooded land and scenic grazing of wildlife. One of her early novels, The Poisonwood Bible, was chosen for Oprah Winfrey's top 10 books list and made her a Pulitzer Prize finalist in 1999. Kingsolver is also committed to promoting social justice causes and supporting new writers. To this end, in 2000, she started the PEN/Bellwether Prize for Socially Engaged Fiction, a literary award which promotes fiction inclusive of social justice issues and is today the largest prize for unpublished debut novels.
Eudora Richardson was one of Virginia's early feminist authors. She grew up in Richmond and attended college at Hollins Institute and later Richmond College. She was recognized for her literary talent early in her life. However, Richardson believed deeply in the cause of women's suffrage, and so this became her focus. She began to network and organize with other suffragettes and got involved with organizations like the National American Woman Suffrage Association, working hard to organize chapters in the southeastern areas of Virginia. Still, she remained a writer at heart and used her literary talent to call out the social and political injustices against women in an increasingly contemporary world. Today, two of her most prominent books, The Woman Speaker and The Influence of Men-Incurable, carry on her legacy as a distinguished feminist author.
Whether your talent is historical journaling, narrative fiction, or activist prose, the writings of those before you are a reminder that you, too, can have a successful writing career. Virginia's diverse culture has always been a bedrock of literary opportunity, and today, large cities like Chesapeake and Arlington are still depots of activity for up-and-coming writers. If you want to become a writer in Virginia, making connections within your local writing community will get you off to a good start. Ultimately, though, the key to your success is having a degree in creative writing. As a prospective undergraduate, that means a BA or BFA (Bachelor of Fine Arts) in creative writing… while graduate students serious about a career in the literary arts let their talents roar with an MA or the esteemed MFA (Master of Fine Arts) in creative writing.
Virginia's Creative Writing Classes, Courses, and Workshops Can Prepare You for a Creative Writing Degree
You've most likely realized by now that there's no formal framework for becoming a writer. There's no exact blueprint to follow like most other professions. Writing is just not that prescriptive. In fact, it's utterly personal; no two authors develop the same intimate connection with the reader. Something so unique requires introspection and self-awareness that no cookie-cutter outline is going to do for you. This means that your journey as a writer starts with getting to know yourself – your convictions, beliefs, ideas, passions, and desires. The best way to do this is to reach out to your local writing community.
The Chesapeake Bay Writers (CBW) group is an excellent opportunity to network and get your stuff read and out there. Here, you'll meet fellow aspiring writers as well as published authors. There are several critique groups that you can participate in, including Saturday Poetry Series and Flash Friday Fiction. One interesting thing about CBW is that it manages its own member bookstore where you can publish and check out books by other CBW members. CBW also maintains a section in the Chesapeake Style Magazine where you can publish reviews for newly published books. If you've recently published, be sure to get one of your CBW colleagues to submit a review to get your name and work out there to the magazine's 10,000-plus readership in the Williamsburg area.
Another amazing literary group to check out is the Arlington Writers Group (AWG). The group meets every Wednesday night at Washington-Lee High School to host a critique circle where you can network and get peer feedback. AWG also holds group writing exercise events and frequently hosts guest speakers. This is not a professionals-only organization, so don't be shy! In fact, most AWG members are merely hobby writers looking to improve their skills and work toward publication.
You'll also want to check out the Northern Virginia Writers Club (NVWC). This group holds online meetings once a month, in addition to writing workshops and panel discussions. You can also learn a lot about the business side of writing by attending one of NVWC's guest speaking events. Be sure to double up on some good writing experience and cash money by entering NVWC's Golden Nib Chapter Contest. You can submit fiction, non-fiction, or poetry of any subject. Three winners are chosen with $100, $50, and $25 cash prizes for first, second, and third place winners. All winners are advanced to the state-level for further competition. And, if you take home first place, your manuscript will be published in the Virginia Writers Club Golden Nib and Teen Nib Journal.
Remember, your local literary circulars have a slew of information, too, so don't overlook them! The Virginia Quarterly Review (VQR) is a local publication with national recognition. In fact, it's published works from some of the most memorable names in literature, including Robert Frost and Eleanor Roosevelt. Throughout its 75-year history, VQR has maintained its dedication to supporting literary expression. If you want to get published, simply submit your best piece of poetry, fiction, or non-fiction, and if your piece is selected for publication, you'll receive a generous sum of $200 per poem and $1,000 plus for short fiction and prose.
Writing Colleges in Virginia Offering Bachelor's and Master's Degrees in Creative Writing Provide a Path to Becoming a Writer
Ultimately, it's a creative writing undergraduate or graduate degree that's going to make the most difference in your career. It's what brings together your experience, dedication, and networking and sets you apart from the amateurs. Don't allow yourself to be confined to a lifetime of hobby writing.
Bachelor of Fine Arts (BFA) and Other Bachelor's Degrees in Creative Writing in Virginia
SCHOOL OF ARTS AND SCIENCES
Accreditation: SACSCOC
Degree: Bachelor – BA
Private School

COLLEGE OF HUMANITIES AND SOCIAL SCIENCES
Accreditation: SACSCOC
Degree: Bachelor – BFA, BA
Public School

JACKSON CENTER FOR CREATIVE WRITING
Accreditation: SACSCOC
Degree: Bachelor – BA
Private School

COLLEGE OF ARTS AND SCIENCES
Accreditation: SACSCOC
Degree: Bachelor – BS
Private School

COLLEGE OF ARTS AND LETTERS
Accreditation: SACSCOC
Degree: Bachelor – BA
Public School

ENGLISH DEPARTMENT
Accreditation: SACSCOC
Degree: Bachelor – BFA, BA
Private School

DEPARTMENT OF ENGLISH AND COMMUNICATION STUDIES
Accreditation: SACSCOC
Degree: Bachelor – BA
Private School

Accreditation: SACSCOC
Degree: Bachelor – BA
Private School

University of Virginia-Main Campus
COLLEGE OF GRADUATE SCHOOL AND ARTS AND SCIENCES
Accreditation: SACSCOC
Degree: Bachelor – BA
Public School

Virginia Polytechnic Institute and State University
COLLEGE OF LIBERAL ARTS AND HUMAN SCIENCES
Accreditation: SACSCOC
Degree: Bachelor – BA
Public School

Master of Fine Arts (MFA) and Other Master's Degrees in Creative Writing in Virginia
COLLEGE OF HUMANITIES AND  SOCIAL SCIENCES
Accreditation: SACSCOC
Degree: Master – MFA
Public School

JACKSON CENTER FOR CREATIVE WRITING
Accreditation: SACSCOC
Degree: Master – MFA
Private School

COLLEGE OF ARTS AND SCIENCES
Accreditation: SACSCOC
Degree: Master – MFA
Private School