<!- mfunc feat_school ->
Featured Programs:
Sponsored School(s)
<!- /mfunc feat_school ->
Being a writer in Missouri could be a sign of good fortune to come. After all, Mark Twain, the "Father of American Literature," spent his formative years here.
Born Samuel Langhorne Clemens, Twain's time in Hannibal, Missouri inspired two of his most recognized works: "The Adventures of Tom Sawyer," and the "Adventures of Huckleberry Finn" both of which are taught in schools across the country.
If one of the greats could come from the Show-Me State, why couldn't you? There are a ton of different stories to flesh out and put down to paper in Missouri, whether they be in the streets of St. Louis or the hills of the Ozarks.
Daniel Woodrell's Portrait of Life in the Ozarks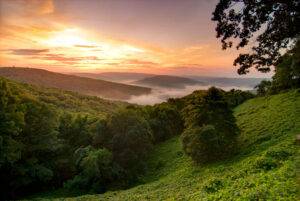 The Ozarks breeds a hardscrabble folk. The titular TV show "Ozark" provided a glance into this culture, but it was more of a characterization than it was an intimate portrait. Daniel Woodrell's stories go beyond a Hollywood producer's interpretation of those native to the region.
Author of "Winter's Bone," "Tomato Red," and "The Outlaw Album," Woodrell (at the time of this article) lives in the Ozarks. One story explores a daughter's search for her missing father, venturing into the underbelly of her town's drug trade to do so. The other discusses a young man's grip with his sexual identity in a hostile environment.
Woodrell isn't the most well-known author in the U.S. Maybe not in Missouri, but he's contributed a great deal to those who value realism. His stories don't pull any punches, and he creates a world as close to real life as it can get.
Twain and Woodrell aren't the only notable authors to hail from Missouri. Gillian Flynn, author of "Gone Girl" made a name for herself in recent years. T.S. Eliot, Langston Hughes, and Maya Angelou have all called Missouri home.
So, what's stopping you? Open up your notebook (or Word Doc, whichever), and start getting your story down. Like anybody, you may need a little guidance, of which you'll find plenty in a creative writing degree program – whether you're un undergraduate looking at BA and BFA (Bachelor of Fine Arts) options, or an eager grad student with your sights set on an MFA (Master of Fine Arts) program. A degree in creative writing requires intensive study and commitment, but they'll help you become the best writer you can be.
Missouri's Creative Writing Classes, Courses, and Workshops Can Prepare You for a Creative Writing Degree
What can you do before pursuing a degree? You'll hear it often, but it bears repeating: network. Join writers groups, seek other artists, and develop a community you can come to for feedback on your work.
Creative writing circles and workshops are good primers for a creative writing BFA or MFA. You'll get used to hearing others' work and offering critique.
Most importantly, you'll learn how to be a studious recipient of that critique. It can be hard hearing what others think of your work, but if you act on it, the stories you produce will be that much stronger. No one produces a perfect story. You'll throw some away, and change others so much that they don't even resemble the original draft. That's OK – it's part of the practice.
The question is, where do you find other writers? Start out with local hangouts, preferably ones with more of an artsy feel (it's not a prerequisite, but it helps). You need to go where writers work. In Missouri, a few such places come to mind:
If you want to connect with fellow writers directly, consider joining the Missouri Writer's Guild (MWG). Founded in 1915, MWG is an educational and promotional organization. Membership is only open to those who have either authored or co-authored work, but don't get discouraged! This includes those who have self-published their own work. It also includes those who have published work in magazines, newspapers, pamphlets, websites, and other mediums. Their chapters include locations in:
What if you haven't published anything? Not to worry. St. Louis Writers Guild is a non-profit organization for anyone engaged in the craft. The organization hosts many events throughout the year, many of which connect aspiring writers with publishing agents, literary magazines, and other industry staples.
Another option is to join a Meetup group that assembles on a weekly or monthly basis. Garnering consistent feedback is important, and it doesn't have to come from an exclusive club. Here are a few Meetups you could check out:
Writing Colleges in Missouri Offering Bachelor's and Master's Degrees in Creative Writing Provide a Path to Becoming a Writer
Earning a degree in creative writing is ultimately what will bring out the best you have to offer. Writing is a process, and so is learning how to do it well. And so, it's the process of earning a BA or BFA (Bachelor of Fine Arts) in creative writing or an esteemed MFA (Master of Fine Arts) that could bring out the talent that you have to offer the world.
Bachelor of Fine Arts (BFA) and Other Bachelor's Degrees in Creative Writing in Missouri
ENGLISH DEPARTMENT
Accreditation: HLC
Degree: Bachelor – Bs
Private School

Kansas City Art Institute
Accreditation: HLC
Degree: Bachelor – BFA
Private School

COLLEGE OF ARTS AND HUMANITIES
Accreditation: HLC
Degree: Bachelor – BA
Private School

Missouri State University-Springfield
DEPARTMENT OF ENGLISH
Accreditation: HLC
Degree: Bachelor – BA, BS
Public School
SCHOOL OF INTEGRATIVE STUDIES
Accreditation: HLC
Degree: Bachelor – BFA
Private School

SCHOOL OF ARTS AND LETTERS
Accreditation: HLC
Degree: Bachelor – BFA
Public School

University of Missouri-Kansas City
SCHOOL OF HUMANITIES AND SOCIAL SCIENCES
Accreditation: HLC
Degree: Bachelor – BA
Public School

Washington University in Saint Louis
COLLEGE OF ARTS AND SCIENCES
Accreditation: HLC
Degree: Bachelor – BA
Private School

COLLEGE OF HUMANITIES AND SOCIAL SCIENCES
Accreditation: HLC
Degree: Bachelor – BA
Private School

Master of Fine Arts (MFA) and Other Master's Degrees in Creative Writing in Missouri
COLLEGE OF ARTS AND HUMANITIES
Accreditation: HLC
Degree: Master – MFA
Private School

SCHOOL OF INTEGRATIVE STUDIES
Accreditation: HLC
Degree: Master – MFA
Private School

University of Missouri-Kansas City
SCHOOL OF HUMANITIES AND SOCIAL SCIENCES
Accreditation: HLC
Degree: Master – MFA
Public School

University of Missouri-Saint Louis
COLLEGE OF ARTS AND SCIENCES
Accreditation: HLC
Degree: Master – MFA
Public School
Washington University in Saint Louis
COLLEGE OF ARTS AND SCIENCES
Accreditation: HLC
Degree: Master – MFA
Private School