<!- mfunc feat_school ->
Featured Programs:
Sponsored School(s)
<!- /mfunc feat_school ->
What is grant writing? Grant writing is a specialized form of technical writing that is used to apply for grants and create proposals for financial awards to fund specific projects. It's one of the primary ways that non-profits, research institutes, and not-for-profit universities secure funds. Grants are often awarded competitively by foundations, trusts, or government agencies, and grant writing provides the information they need to make decisions about how to distribute funds or assistance.
Grant writing is a fundamental skill in the non-profit world. Major capital projects, operating expenses, new initiatives, vital maintenance work, and all other kinds of expenses are covered by money that comes in via grants.
Grants are competitive, and good grant writers make all the difference in determining which organizations receive funding and which do not.
Grantmaking organizations need information to base their decisions on when it comes time to cut checks. When grant money is on the table to be applied for, they provide an outline with detailed instructions for grant writers to follow when drafting proposals. This typically includes:
Grant writing is the art of putting all that together into a package that checks all the boxes, and that also tells a compelling story about how the funds being requested will be used.
Although grant writing is usually seen as a kind of technical writing, it also includes elements of persuasive writing, or even copywriting. A grant writer must write to established standards to give granting organizations the information they request. But they also must offer convincing arguments and rhetoric to present their request as a good investment.
Grant Writing Involves Many Steps, so Good Organizational Skills are Key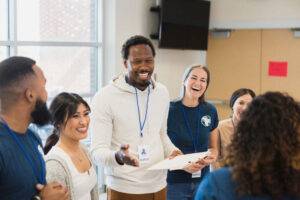 The primary work of grant writers is putting together grant proposals. These are substantial packages that often include illustrations, spreadsheets, charts, and other supporting documentation alongside descriptive text. The grant writer is responsible for orchestrating all of this material, working with other staff to produce items and include them in the proposal package.
The standard proposal package includes a number of different elements:
The grant writer compiles and writes each of these sections, while conforming to the word count and style limitations that are specified by the granting organization.
Grant Writing Requires Flexibility and Adaptation
Grant writers don't just write full-on grant proposals, however. There are several different types of standard documents that fall within the purview and expertise of grant writers:
Before writing full grant proposals, grant writers often solicit information about what kinds of resources that grantors may be able to offer, what projects they are interested in funding, or if they are even making grants currently. These are shorter works that can save a lot of time when it comes to developing a full proposal.
In some cases, a grantor may want to see a brief overview of proposals or of the potential grantee before proceeding with a formal request process. In these cases, the grant writer will author a short letter covering the scope of the proposal and the broad outlines of the recipient organization before a full proposal, and sometimes in place of one.
Grant writers frequently have to obtain very specific information from within the recipient organization. They have to be able to detail their needs for the grant clearly and quickly to ensure.
Grant writers are also high-caliber researchers. In fact, many grant writers spend more time searching and developing data for grant proposals than writing the proposals themselves.
That means grant writers must also be extensive readers. They will spend a great deal of time reading grantor RFP (Request for Proposal) or RFR (Request for Resources) publications to find matches for their needs. They also must be well-versed on the goals and accomplishments of the organizations they are writing for. They have to be able to showcase their organization and project to show that it both aligns with the mission of the funding agency and to compete against all the other originations vying for the same funds.  
Different Types of Grants May Call For Different Kinds of Grant Writers
While grant writing is a specialized form of technical writing, you'll also find that there are many specialties within the field of grant writing itself.
Grant writers often find themselves specializing in a certain type of grant or granting agency. They become familiar with the standards and hone their proposals to improve their odds of success in that field.
Additionally, there are specialties that revolve around different types of granting organizations. Some grant writers will focus on government grants, available from federal, state, or local agencies. Others might work mostly in healthcare or for faith-based organizations. They get to know the big grant makers in the field and the competition for each opportunity.
How To Become a Grant Writer
Many people fall into grant writing because they need to. They may volunteer or work for a non-profit organization in need of funding. They might work in a field like education or ecology and see an unmet need, and decide to go after the money to make it happen. Without even realizing it, they are on the path to becoming a grant writer.
Grant writers may work either as freelancers or as full-time employees for larger organizations that depend on grants.
Professional grant writers may have started out as amateurs and found they have a knack for identifying grant opportunities and writing proposals. Or they might look to grant writing as an opportunity to both become a professional writer and work to support causes that they believe in.
Is Grant Writing Hard?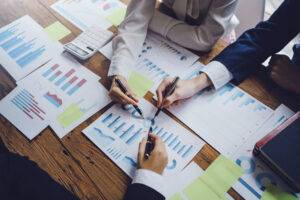 Like any other kind of writing, grant writing is a learned skill. The more and the better you learn the forms and techniques, the easier it becomes.
In at least one sense, writing grants can be easier than other types of writing because the requirements are often very clearly described. Grant requests for proposal can be extremely specific in describing what information is required and what format it should be presented in.
But that also introduces constraints on the writing that not all writers are comfortable with. It can depend a lot on your personal style and preferences.
Unlike many other kinds of writing, grant writing comes with a kind of built-in scorecard. Many types of writing can only be judged subjectively. Each reader might have a different impression and a different appreciation for the quality of the work.
With a grant proposal, you will either receive an award or not. Although the quality of the grant proposal is only one factor in that decision, it is an important one. So grant writers get objective and decisive feedback on their work on a regular basis.
That can definitely make grant writing seem hard, but it can also make it very rewarding. Improvements in skill result in real benefits for the organization you are writing grants for.
In both cases, strong writing skills are a must. Most grant writers have at least a bachelor's degree in English, technical writing, or a related field.
Creative writing programs can offer some unexpected benefits to people trying to become grant writers, however. A creative writing degree will teach you about many different styles and tones in writing, giving you the adaptability to focus on different audiences and goals. You'll receive constant feedback and go through many revisions and writing assignments. You'll learn valuable research skills that will come in handy when putting together grant proposals.
Just as important, you'll develop your imagination and creativity in ways that will help you find fresh ways to pitch proposals and memorable ways to turn a phrase. You'll never have to worry about grantors putting down your proposal before they get to the end.
How To Become a Certified Grant Writer
There is nothing special about certification in grant writing. There are no official requirements. No agencies that offer grants refuse submission of grants on the basis of whether or not the grant writer was certified. And there is no central certifying authority in grant writing.
A certificate in grant writing just means that you have gone through some series of courses designed to teach you something about the standards and practices expected when writing grants.
These courses are sometimes followed up by an examination offered by the same organization to test whether you have absorbed the information in class.
But certification can certainly help applicants for grant writing jobs stand out from the competition.