<!- mfunc feat_school ->
Featured Programs:
Sponsored School(s)
<!- /mfunc feat_school ->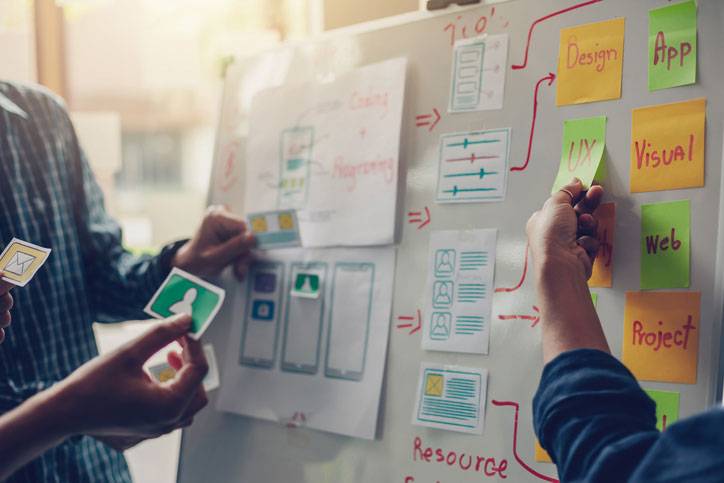 How to build a UX writing portfolio with no experience? UX writers handle the task of writing the microcopy we all encounter in our favorite apps and websites. They provide us with simple direction and anticipate user questions by offering crystal clear guidance in plain language that anybody can understand. User experience writers can build a professional portfolio through case studies, volunteer work, or reimagining user interface writing found in existing programs or web services.
The age-old challenge for any kind of writer is how to develop a portfolio within their specialty without having been previously published. This is a situation that literally every writer faces at some point in their career. It's as true for User Experience (UX) writers as any other type of journalist, technical, or creative writer in the world.
To meet this challenge, it's useful to rephrase the question. The very act of building a portfolio is gaining experience, so there isn't really a way to build a UX writing portfolio with no experience—the experience comes with the portfolio.
The real question is how do you get UX writing experience without a professional position as a UX writer.
This is an important challenge to meet, because in a competitive field, potential employers will want to see proof that you can rise to their needs. Fortunately, you have many ways to get that experience and build your portfolio even before becoming an experienced UX writer.
Ways To Get User UX Experience Before Your First Official UX Writing Job
Like every other kind of writing, getting UX writing experience has one basic requirement: write.
As long as you are working on the kind of microcopy that UX writers specialize in, that very process is part of building your experience. That's as true whether you are working on a project with an audience of millions or working on some imaginary case study in your room at night.
The real challenge is turning that writing into pieces, that together, will present well as a portfolio. That usually means getting them into some sort of published format, or at least putting them together in a professional-looking, well-organized way.
Develop General Writing Experience Through a Degree in Creative Writing
There are no dedicated degrees in user experience writing, but many of the types of degrees that UX writers pursue involve building a sort of portfolio as part of the coursework. Technical writing programs are most likely to have dedicated classes in UX writing, but creative writing degrees may offer better preparation for a long-term career in UX writing.
That's because the broad exposure to different kinds of literature and writing styles will spark your imagination and give you more literary tools and concepts to use in your work. And creative writing degrees involve a great deal of writing. You'll develop an impressive portfolio of many different types of written work by the time you graduate. And with feedback and revisions from professors who are expert writers and frequently published authors, you can be assured that portfolio will come with a high degree of polish.
Develop UX Case Studies on Existing Products
UX writing is both very niche and very specific to the software it is associated with. Unlike other types of writing, where a writer might develop stories, articles, or screenplays on spec to demonstrate their talents, UX copy is incoherent without the rest of the interface.
On the other hand, the UX world does have some standard practices for addressing this issue that will allow you to demonstrate your skills without being part of the original project team. That comes through UX case studies.
A UX case study breaks down the user experience for an existing or prospective product and analyzes the quality and effectiveness of that experience while making recommendations for improvements.
You can just as easily create a UX writing-specific case study that analyzes the language used in the user interface, revising it to showcase your own skills. You might review aspects of the user interface writing such as:
This creates an actual document for your portfolio while honing your own eye for great UX writing.
Volunteer as a UX Writer on Open Source or Small Projects
Getting your foot in the door as a UX writer can involve making the same sort of initial sacrifices as other types of writers: working for free to build out your portfolio.
In the software world, there are many opportunities for participating in and improving UX writing on free, open-source software (FOSS) projects. Open-source software is developed so that the code is freely available for anyone to review and modify; that software is often also made available free of charge. The modern internet largely runs on such free programs, operating at levels below the view of the average user.
Some FOSS packages have become widespread, if not common, in public use. Linux, Blender, Moodle, and other free programs have become common in certain industries.
All of those user-facing programs have interfaces. In many cases, they are essentially an afterthought, thrown together by programmers without any expertise or much interest in UX design. These projects are ripe for volunteer UX writers to join and provide some much needed assistance to UX designers.
Volunteer To Help With Localization UX Writing on Foreign Programs or Projects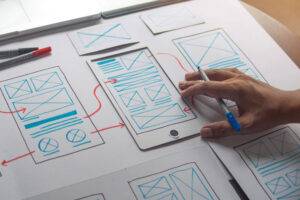 Although English is in many ways the lingua fraca of the software world, not every program is developed by or for English speakers. But in many cases, software developers would love to tap into that large market for their products.
Translating native text to English in user interface components is an expensive proposition, however. It's out of reach of many smaller developers—which makes them very open to volunteers offering to help localize their products.
Localization is challenging because different word lengths and connotations in other languages may not have exact English counterparts. When they do, the text itself may not fit identically in the interface areas allocated for it. So localizing writing for a user interface is an impressive demonstration of your skills in UX writing.
Redevelop Existing Projects With Your Own UX Writing
Another option for developing valuable UX skills requires at least a bit of genuine technical ability as well. That is by creating mock-ups of existing products or programs that have your own unique UX writing on them instead of the default text.
This is easiest with websites. With some basic web building skills you can create visual mock-ups of popular web services but offer your own writing in place of the official version. Creating a better Twitter or a new take on Instagram is a great way to offer a comparative look at your skills for prospective clients.
Building a UX writing portfolio to get your foot in the door is all a part of the process that every type of writer goes through. More and more, writers are finding that earning a degree provides the perfect opportunity to build a portfolio while building writing experience at the same time.