<!- mfunc feat_school ->
Featured Programs:
Sponsored School(s)
<!- /mfunc feat_school ->
Anyone with an inclination to write for a living may think of moving to the big city: LA, New York, etc. That's where you have to make your career, right? That's where all the opportunities are, or so they say. That's where the best creative writing degree programs are – the BFA (Bachelor of Fine Arts) and MFA (Master of Fine Arts) everyone is always talking about, isn't it?
But before you pack your bags and prepare to live in a 400 square foot apartment for $2,000 per month, ask yourself this: How many stories have been written about LA? About NY? Good writers write about what they know, and you know Nebraska. Those on the coasts might think of it as another flyover state, but they're speaking from a place of ignorance. They don't understand the people from here, the jobs they work, and the culture that breathes life into every corner of the prairie. So, why not build your career here?
'The United States knows Nebraska Because of Willa Cather's Books'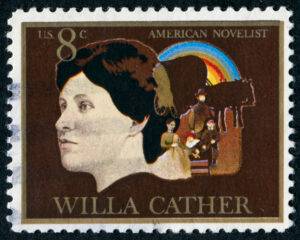 Such was the opinion of Nobel Prize-winning author Sinclair Lewis. Read any of Willa Cather's books, and you'll see he wasn't wrong.
Born December 7, 1873, Cather was actually born in Virginia before her family moved to Red Cloud, Nebraska 10 years later. Seven years later she would attend the University of Nebraska in Lincoln. Funny enough, she initially intended to study science and medicine having worked under the local doctor in Red Cloud. However, upon entering university, her essays were quickly published in local newspapers, prompting her to pursue a literary life.
Cather didn't hit the ground running as a novelist. Upon graduating, she leveraged her experience as an editor of the university's newspaper to land a job at McClure's Magazine, which earned the reputation as the source of investigative and watchdog journalism.
As any writer does, Cather took inspiration from those who came before her – specifically, Henry James and Sherwood Anderson. James was known for his character's stream-of-consciousness perspectives on their navigations through high-brow European and American society. Cather's colleague, Sarah Orne Jewett, recommended Cather found a voice of her own, and she found it in Nebraska.
After embracing her understanding, Cather wrote "One of Ours", a novel following the life of a native Nebraskan's experiences through university, farm life, and the First World War. It won Cather the Pulitzer Prize in 1923.
You may have a long way to go before you write a Pulitzer-winning novel. That's OK. We all have to start somewhere. If you have an eye set on a degree in creative writing, whether it's BFA or MFA program or not, there are some crucial steps you can take to prepare yourself for your studies.
Nebraska's Creative Writing Classes, Courses, and Workshops Can Prepare You for a Creative Writing Degree
We've all heard of writers who live a hermetic life, typing away at their magnum opus. It's a romanticized ideal. For every famous writer who shut themselves away, there are others – Cather included – who congregated with their peers to hone their craft.
Getting down to brass tacks: Find other writers. Share your work with them, and listen to their feedback. Reciprocate by providing your own thoughts on their work. Learn to provide constructive criticism. If you liked something, describe why you liked it. Add ideas about how to improve the work you're reading.
Providing critique is an essential part of becoming a solid writer. Over time, you'll begin to understand how your own work may affect your readers. Will they believe the story they're reading? Will they empathize with its main characters? Answering these and other questions will lead to stronger narratives.
So, where do you find other writers? Check out the Nebraska Writers Guild. It's a non-profit organization dedicated to "foster the development of the talent of those who desire to write." If you want to become a published author, this is the organization to join. It encourages writers to meet, provide critique, and help each other act on publishing opportunities. Members get access to online critique groups, professional references, and literary festivals. The following writers groups are affiliated with the Guild:
Another option is to look at where writers and other artists congregate. As Omaha is home to more than a few universities, you're likely to find more options in that city than anywhere else. Young minds and artists can inspire you to pursue your work, and keep you disciplined with maintaining a daily word count.
Writing Colleges in Nebraska offering Bachelor's and Master's Degrees in Creative Writing
Getting involved in Nebraska's writing community is the first step. The second step is to invest in yourself through a bachelor's or master's degree in creative writing, as your situation warrants.
Bachelor of Fine Arts (BFA) and Other Bachelor's Degrees in Creative Writing in Nebraska
COLLEGE OF ARTS AND SCIENCES
Accreditation: HLC
Degree: Bachelor – BA
Private School

University of Nebraska at Omaha
COLLEGE OF COMMUNICATIONS, FINE ARTS, AND MEDIA (BFA)
COLLEGE OF ARTS AND SCIENCES (BA)
Accreditation: HLC
Degree: Bachelor – BFA, BA
Public School
Master of Fine Arts (MFA) and Other Master's Degrees in Creative Writing in Nebraska
University of Nebraska at Omaha
COLLEGE OF COMMUNICATIONS, FINE ARTS, AND MEDIA
Accreditation: HLC
Degree: Master – MFA
Private School