<!- mfunc feat_school ->
Featured Programs:
Sponsored School(s)
<!- /mfunc feat_school ->
For thousands of years, the landscape of the west has served the spirit of the artist. Jagged mountaintops of rock disrupt the open skies, compelling the painter to capture the earth's mood and the thinker to find focus. Bluffs and plateaus tempt the wanderer and the wandering mind. Open skies bring clarity; you can stand anywhere, spin yourself in a circle, and see the earth from any direction. Sprawling plains expose you to the elements while reminding you that out here, you are anonymous.  
Wyoming is Particularly Conducive to the Writing Life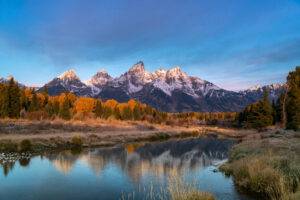 A look at the stories of Annie Proulx reveals an integrity to the land and to the gritty, independent disposition of those who inhabit it. Poet and educator Lori Howe anthologized seventy stories by Wyoming writers in her 2016 release Blood, Water, Wind, and Stone (Sastrugi Press), which illuminates the Wyoming writer's admonishing to the landscape and unyielding weather. Craig Johnson's series, Walt Longmire, gained critical acclaim and a famous TV adaptation, Longmire.
Wyoming doesn't only inspire place-based stories. Born in Cheyenne, science fiction writer George Clayton Johnson would one day become author several notable episodes of The Twilight Zone. The novelist Tim Sandlin (Skipped Parts and Sorrow Floats) spent his early summers in Wyoming while his father worked in Grand Teton National Park, a setting that no doubt inspired him to live the writing life.
Like much of the west, Wyoming is home to those who can handle the isolation; hundreds of miles of highways, bluffs, and mountain passes separate the state's notable cities of Cheyenne, Laramie, Cody, Gillette, Lander, and Jackson Hole. But anyone who's lived out west knows that with this detachment comes a craving for community. It's not uncommon to drive more than three hours to gather with loved ones. In a state of just over half a million people, it's also not uncommon to see familiar faces even when you're traveling around.
Any writer knows that the craft requires a careful balance between company and aloneness, between self-reliance and interdependence. A symbiosis occurs when we deliberate an idea with fellow writers, bring a draft to a workshop, and take courses from experts in the craft – all of which require that we surround ourselves with other writers. We also find focus in the quiet, for solitude allows us the time and space to write the draft in the first place.
Getting a degree in creative writing fosters all those experiences and will push you to hone your technique, whether you're an aspiring undergrad looking for a BA or Bachelor of Fine Arts (BFA) or are ready for the next big step with an MA or Master of Fine Arts (MFA) in creative writing.
Wyoming's Creative Writing Classes, Courses, and Workshops Can Prepare You for a Creative Writing Degree
For anybody with an appreciation for the essential community and isolation Wyoming has to offer, the state is the ideal place to practice the art and live out the life of a writer. 
When you're in the center of the high plains, at the mercy of the earth's temperament and exposed to all its elements, you develop a combination of self-reliance and humility. Don't be fooled by the small population or remoteness of the state; the people of Wyoming hold a special appreciation for building relationships with others. Wyoming writers in particular recognize the need to find each other.
Even before you begin your bachelor's or master's in Creative Writing, you'll want to consider how you can participate in the writing community. The writing communities across Wyoming feature some of the most respected and talented people in the field. Moreover, they welcome new additions to their circles, and they're willing to share their knowledge and talents with others.
If you're just getting started as a Wyoming writer, Wyoming Writers, Inc. will be your launching pad for finding publishing opportunities and contests. They also host an annual writers conference, which attracts notable writers from around the world; their June 2022 conference schedule included Vi Khi Nao (Fish Carcass and My Yellow Heart), Crow poet and Montana Poet Laureate Henry Real Bird, and comedian and playwright (How to Survive Your Family at Christmas)—and those are just a few of the talented artists in the queue. They also post weekly writing exercises and keep their community up to speed on the latest opportunities for fellowships and workshops, particularly those that can be done remotely. Wyoming Writers can also point you to a writing group in your nearest town, whether that's Gillette, Lander, Riverton, or Buffalo. According to their web page, since their founding in 1974, Wyoming Writers, Inc. has stayed true to its commitment, "…a love of the written word and a desire to do what Wyomingites do well—lend a helping hand when needed, celebrate our successes and milestones together, and shoulder up when we have trouble standing alone."
Despite—or because of—its remote location, Wyoming attracts creators from all over the world. And Wyoming delivers. Sitting on a ranch in Clearmont, WY, Ucross is a gathering ground for creatives of all kinds, a space where writers, researchers, and artists take refuge to practice the craft and live together on some of Wyoming's most cherished conservation land. The selection process is rigorous, and rightfully so; Ucross boasts an impressive alumnus of writers, including National Book Award winners Ann Patchett, Sigrid Nunez, and Susan Choi, as well as Annie Proulx (of course) and MacArthur Foundation recipient Colson Whitehead.
If you're not quite ready for a residency, the Jackson Hole Writer's Conference attracts equally notable authors and is open to all. Run by the nonprofit, Jackson Hole Writers, the annual conference features three days of writing enrichment, including workshops, speaking events, and individual manuscript consultations with agents and editors. And we already know that Wyoming's beauty and spirit attract talent; last year's guest speakers included Téa Obreht, winner of the Orange Prize for fiction (The Tiger's Wife), children's book author Kathi Appelt, and poet Juan Morales. Plus, attendees can learn from talented resident faculty like Deborah Atkinson and screenwriter Tab Murphy.
Writing Colleges in Wyoming Offering Bachelor's and Master's Degrees in Creative Writing Provide a Path to Becoming a Writer
Wyoming is the ideal place to live out the writing life. No matter where you are in your writing practice, Wyoming welcomes you for workshops, learning, and finding your fellow writers.
Wyoming wants to attract writers. In terms of educational opportunities, you'll find creative writing degrees throughout Wyoming to be just as inspiring and generative as the writers who call the state home. Interested in getting a bachelor's or master's in creative writing in Wyoming? You've come to the right place.
Bachelor of Fine Arts (BFA) and Other Bachelor's Degrees in Creative Writing in Wyoming
Master of Fine Arts (MFA) and Other Master's Degrees in Creative Writing in Wyoming
Accreditation: HLC
Degree: Master – MFA
Public School