<!- mfunc feat_school ->
Featured Programs:
Sponsored School(s)
<!- /mfunc feat_school ->
Rhode Island may be the smallest state in our Union, but it's turned out some of the most memorable writers of all time. Back in the 1630s, it was founded as a colony by a man named Roger Williams. He was a controversial figure who had been banished from the Massachusetts colony for promoting radical ideas like religious tolerance and separation of church and state. At that time, Massachusetts was on the cusp of witchcraft hysteria, so it's not surprising that Williams' stance on religious freedom would have been poorly tolerated.
But Williams understood the power of the written word, and he used it to make his point. Penning his Letter to the Town of Providence, he illustrated the power and persuasion of literature in highlighting societal injustices. Since that time, Rhode Island has been the backdrop for some of the most legendary American writings.
The Dark Arts of Literature Have a Home in Rhode Island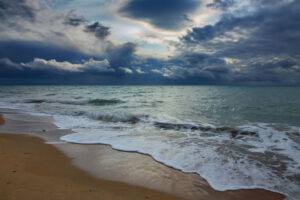 Rhode Islanders largely avoided the witchcraft hysteria of the 1640s, but John Updike brought it front-and-center in his novel The Witches of Eastwick. The book's setting is the fictional town of Eastwick, Rhode Island, but much speculation has been made about the fictional Eastwick and the real-life quaint waterside village of Wickford. The fact that the colonial-era Wickford was called Updike's Newtown only adds to the curiosity. John Updike, himself, is said to have visited Wickford in the early '80s before the release of his novel in 1984, and though there are striking similarities between Eastwick and Wickford, Updike always refused to confirm the connection.
H.P. Lovecraft is, without a doubt, the darkest, most macabre writer to hail from Rhode Island. Born in Providence, he was said to have literary prowess at a very young age – reciting poetry at age two and writing at age six. He frequently suffered with illness during his youth, though, which was said to have been largely psychological in nature. Perhaps, that was the framework for his tales, as he would later be coined a writer of weird fiction and become known for his macabre, gothic style of writing. One of his most widely recognized stories, The Shunned House, was, in fact, based on an 18th century-era house in Providence. Lovecraft described the house as "a hellish place where night-black deeds must have been done in the early seventeen hundreds". Today, the house still stands on Benefit Street, if you're daring enough to visit.
Whether you've got a talent for political persuasion, an affinity for narrative drama, or a dark imagination, the lasting words of writers like Williams, Updike, and Lovecraft are reminders that you, too, can be successful as a creative writer.
The allure of Rhode Island's coastal backdrop has drawn writers in for centuries. Today, large cities like Providence and Cranston are still hubs of literary expression and offer countless opportunities to new writers looking to get noticed. If you want to become a writer in Rhode Island, networking and making connections in your local writing community will set you off in the right direction. Ultimately, though, the backbone of a successful writing career is a BFA or MFA in creative writing.
Rhode Island's Creative Writing Classes, Courses, and Workshops Can Prepare You for a Creative Writing Degree
You've probably realized by now that a career in creative writing doesn't follow a pre-planned structure like most other professions. It's not prescriptive with a breadcrumb-lined path leading you right to the publisher that's going to look at your stuff and sign you to a contract on the spot. Nope, you'll have to put in some leg work first. In fact, pursuing a career in writing is more like walking a labyrinth where there are no signs to lead you on your way. If you hit a dead end one way, you simply turn around, continue your journey, and keep knocking on doors looking for that one way out – that one big break that gets your writing noticed.
Writing is by its very nature a schematic use of words put upon a reader to convey an author's vision – a glimpse into the innermost workings of a writer's mind. Would Lovecraft have been the weird horror writer that he was without the predicament of his own psychological sufferings? A successful writer, then, must hold an element of introspection and self-awareness. You'll need an outlet in which to challenge your own thoughts, to question yourself and to be questioned, as well as to find your voice and vision. The best way to do this is to get involved with your local writing community.
Luckily, Providence is chockfull of networking opportunities for amateur writers. Local bookstores and book clubs are always a great way mingle with other local writers. Riffraff Bookstore and Bar, a former mill warehouse, stocks tons of books written by local authors and published by independent presses. It also holds monthly book club meetings, in the quaint ambiance of a rustic warehouse while serving beer and wine to its guests. The Goat Hill Writers is another great resource that can help you develop your writing talent. The group offers generative and small-group workshops for writers of all levels, inspiring you to find new ideas and unleashing your creativity. It's a great outlet for individual expression and is designed to show you how to bring this into your writing.
You'll also want to get familiar with organizations like the Association of Rhode Island Authors (ARIA). The ARIA is an organization of locally published authors focused on increasing access to the writings of Rhode Island authors. Groups like this can link you to local independent self-publishers, like Self Publishing Insight and Stillwater River Publications.
Be sure to follow the local literary circulars, too. The Bryant Literary Review publishes poetry, fiction, and non-fiction pieces and showcases experienced writers and new talent alike. The journal prides itself on providing its audience with original, mentally stimulating pieces and is always looking for fresh talent. The Ocean State Review is another print journal offering amateur writers with manuscript submission opportunities. It publishes fiction, non-fiction, poetry, and book reviews and places no limitations on number of submissions but does charge a $3 reading fee per submission.
Writing Colleges in Rhode Island Offering Bachelor's and Master's Degrees in Creative Writing Provide a Path to Becoming a Writer
In the end, though, a college degree in creative writing is the piece of the puzzle that brings it all together. It is the single differentiating factor between an amateur writer and a professional. You've come too far to let it all go for naught. Look over these creative writing degree programs, find one that works for you, and begin your writing career today!
Bachelor of Fine Arts (BFA) and Other Bachelor's Degrees in Creative Writing in Rhode Island
THE COLLEGE
Accreditation: NECHE
Degree: Bachelor – BA
Private School

SCHOOL OF ARTS AND SCIENCES
Accreditation: NECHE
Degree: Bachelor – BA
Private School

FACULTY OF ARTS AND SCIENCES
Accreditation: NECHE
Degree: Bachelor – BA
Public School

Roger Williams University
FEINSTEIN SCHOOL OF HUMANITIES, ARTS AND EDUCATION
Accreditation: NECHE
Degree: Bachelor – BFA
Private School

DEPARTMENT OF ENGLISH, COMMUNICATIONS AND MEDIA
Accreditation: NECHE
Degree: Bachelor – BA
Private School

Master of Fine Arts (MFA) and Other Master's Degrees in Creative Writing in Rhode Island
GRADUATE SCHOOL
Accreditation: NECHE
Degree: Master – MFA
Private School

FACULTY OF ARTS AND SCIENCES
Accreditation: NECHE
Degree: Master – MA
Public School

DEPARTMENT OF ENGLISH, COMMUNICATIONS AND MEDIA
Accreditation: NECHE
Degree: Master – MFA
Private School